141 days until Golden Convention
The Golden Convention website is now live. There's a prize draw for early booking! More...
Europa Forum
We are now less than 2 weeks away from the 60th Europa Forum. More...
China Earthquake
Thousands in China need help following the earthquake in the Yunnan Province. Please see PIP Barry Palmer's appeal. More...
The sky's the limit
See how our 2nd Vice District Governor achieved a lifelong ambition in the name of Lions. More...
Goodwood 2014
The Family Fun Weekend at Goodwood was a great success! More...
One Shot, One Life
Lion Brigid Hendy has adopted the LCI measles vaccination programme as the DG Partner Charity More...
What's on
November

2014

Venue

Time/Details

Sat 1st

Guernsey Charter Dinner

Sun 9th

Remembrance Sunday

Sat 15th

Christchurch Charter Dinner

7:30pm

Sat 22nd

Jersey Charter Dinner

Sat 22nd

Wimborne and Ferndown Charter Dinner

6:45 for 7:15pm DG attending

Fri 28th

Windsor Charter Dinner

7:30 for 8pm DG attending

December

2014

Venue

Time/Details

Fri 5th

7 for 7:30pm

Thu 25th

Christmas Day

Fri 26th

Boxing Day

January

2015

Venue

Time/Details

Thu 1st

New Year's Day

Sat 10th

Weekend

Sun 18th

10:30am

Sat 24th

Loddon Valley Charter Dinner

February

2015

Venue

Time/Details

Sun 1st

Burnham Charter Lunch

DG attending

Sat 7th

Wareham Charter Dinner

DG attending

Sat 14th

Valentine's Day

Sat 28th

IOW Sandown and Shanklin Charter Dinner

March

2015

Venue

Time/Details

Sun 8th

IOW Newport Charter Lunch

Sat 14th

Newbury Charter Dinner

PID Howard Lee attending

Sun 15th

Mothering Sunday

Sat 21st

Weekend

April

2015

Venue

Time/Details

Fri 3rd

Good Friday

Mon 6th

Easter Monday

Fri 17th

Gosport 50th Charter Dinner

DG attending

Sat 18th

Poole 50th Charter Dinner

DG attending

May

2015

Venue

Time/Details

Mon 4th

May Day

Fri 8th

Hilton Birmingham Metropole Hotel, National Exhibition Centre, Birmingham B40 1PP

Weekend

Sat 16th

Westbury Charter Dinner

IPDG attending

Sat 16th

Fareham Charter Dinner

Sat 16th

Havant 50th Charter Dinner

7pm DG attending

Sun 17th

10:30am

Sun 17th

2:30pm

Sat 23rd

Charity Summer Ball

7 for 7:30pm in aid of DG wife's charity 'One shot one life'

Mon 25th

Spring Holiday

Sat 30th

Yateley Charter Dinner

June

2015

Venue

Time/Details

Sat 20th

Reading 50th Charter Dinner

DG attending

Sun 21st

Father's Day

Fri 26th

98th International Convention

Honolulu, Hawaii

5 days

August

2015

Venue

Time/Details

Mon 31st

Summer Holiday

The above dates may change without warning
District Newsletter
Download the latest District Newsletter...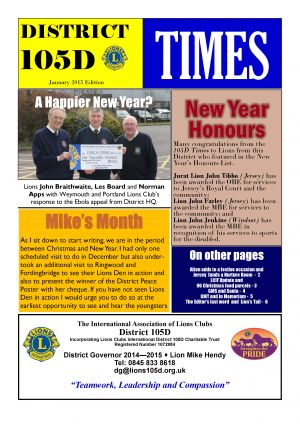 DG Team Survey
A synopsis of the results More...
Membership
Download a membership application form for clubs. More...
District Directory
If you wish to download the District Directory, follow this link and then click on the Members tab and log-in. More...
Monthly mailing
The District Secretary monthly mailing has been replaced with a page of links where you may download relevant PDF files. More...
Passwords

2015 Cabinet Officers and Club Officers may obtain a user name and set their passwords or existing users may reset their passwords via this link: Password reset
PID Phil Nathan
Follow Lion Phil's International 2nd Vice President campaign on his website. More...
New look website!
We have a new look website modelled on the MD design but you may need to refresh to ensure that the new system is loaded properly - just press F5 on your keyboard - Tom Sayers (IT Officer).
District Convention 2015
Book now for the chance of winning the cost of your hotel accommodation for the weekend! See the Golden Convention website
New District Governor
The 1st of July and a new Lions Year and a new District Governor, Lion Mike Hendy - seen standing here with his wife, Past DG Brigid and International President Joe Preston and his wife Lion Joni.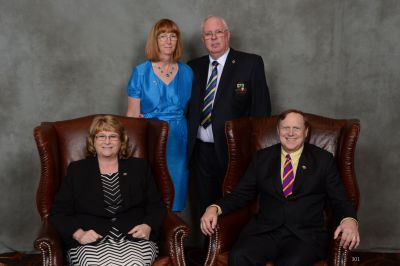 Lion Brigid Hendy, DG Mike Hendy, Lion Joni Preston, IP Joe Preston
at International Convention in Toronto