International Convention report
Read PDG Fred Massey's report from Honolulu. More...
MD PR Strategy
There is a new document outlining the Multiple District Public Relations strategy for 2015-16. More...
Nepal Earthquake Appeal
Read a letter from PID Naresh Aggarwal - 2nd Vice President candidate. More...
Information Day
Notes from the 12th April. More...
Windsor Boys School Leos
Congratulations to Windsor Lions on the formation and sponsorship of the "The Windsor Boys School" Leo Club.
Your Club, Your Way
Download summary notes from PDG David Merchant's Convention workshop:
2013-14 Expenditure analysis
See what the District spent money on last year. More...
What's on
November

2015

Venue

Time/Details

Mon 30th

St Andrew's Day

December

2015

Venue

Time/Details

Tue 15th

Poetry entries deadline

Fri 25th

Christmas Day

Mon 28th

Bank Holiday in lieu of Boxing Day

January

2016

Venue

Time/Details

Fri 1st

New Year's Day

Mon 4th

Conference call

7:30pm

Tue 5th

Fri 8th

Sat 9th

Weekend

Sun 17th

10:30am

Sun 17th

Deaf Awareness Training

14:00 to 17:00 approx

Fri 29th

Council of Governors

Weekend

February

2016

Venue

Time/Details

Sat 6th

Wareham Charter Dinner

DG Attending

Sun 14th

Valentine's Day

Fri 19th

Village Hotel, Castlegate Park, Birmingham Road, Dudley DY1 4TB

Weekend

Sat 20th

Weymouth and Portland Charter Dinner

DG attending

March

2016

Venue

Time/Details

Tue 1st

St David's Day

Sun 6th

IOW Newport Charter Lunch

Sun 6th

Mothering Sunday

Sat 12th

Hook and Odiham Charter Dinner

PCC John Goodchild attending

Thu 17th

St Patrick's Day

Fri 18th

4pm

Sat 19th

Weekend

Fri 25th

Good Friday

Sun 27th

Daylight Saving Time begins

Mon 28th

Easter Monday

April

2016

Venue

Time/Details

T.B.C.

District Fun Day

Sun 10th

Bournemouth Charter Lunch

DG Attending

Sun 17th

Bridport Charter Lunch

DG attending

Sun 17th

Club and District Officer Training Day

Sat 23rd

St George's Day

May

2016

Venue

Time/Details

Mon 2nd

May Day

Thu 5th

Council of Governors

Eastbourne

Weekend

Fri 6th

Weekend

Mon 9th

Conference call

7:30pm

Fri 13th

Sat 14th

Fareham Charter Dinner

DG Attending

Sun 22nd

10:30am

Sun 22nd

2:30pm

Mon 30th

Spring Holiday

June

2016

Venue

Time/Details

Sun 19th

Father's Day

Fri 24th

Lions International Convention

Fukuoka, Japan

Weekend

July

2016

Venue

Time/Details

T.B.C.

District Handover

August

2016

Venue

Time/Details

Mon 29th

Summer Holiday

October

2016

Venue

Time/Details

Sun 30th

Daylight Saving Time ends

Mon 31st

Halloween

November

2016

Venue

Time/Details

Sun 13th

Remembrance Sunday

April

2017

Venue

Time/Details

Fri 21st

Weekend

The above dates may change without warning
District Newsletter
Download the latest District Newsletter...
DG Team Survey
A synopsis of the results More...
Membership
Download a membership application form for clubs. More...
District Directory
If you wish to download the District Directory, follow this link and then click on the Members tab and log-in. More...
Monthly mailing
The District Secretary monthly mailing has been replaced with a page of links where you may download relevant PDF files. More...
Passwords

2015 Cabinet Officers and Club Officers may obtain a user name and set their passwords or existing users may reset their passwords via this link: Password reset
PID Phil Nathan
Follow Lion Phil's International 2nd Vice President campaign on his website. More...
The 51st Annual Convention 2016
"Motoring into Winchester"
Date: 18-20 March 2016
Venue: Holiday Inn, Winchester, SO21 1HZ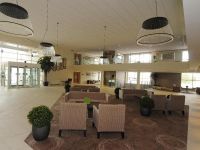 For full details visit the Convention website:
On-line booking is now available
Results of the 2015 questionnaire

Thanks to everyone who took the time to complete the 105D District Questionnaire - Summer 2015. The results are now available via the following link.
IPDG Mike Hendy
Please see survey results
District Handover 2015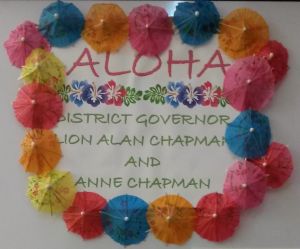 As our DG Elect Alan Chapman couldn't go to International Convention in Hawaii this year, we brought Hawaii to him at the Stones Hotel near Salisbury on Saturday the 18th of July, when PID Howard Lee installed Lion Alan Chapman as District Governor of 105D!
[Photo: PID Howard, DG Alan & Anne]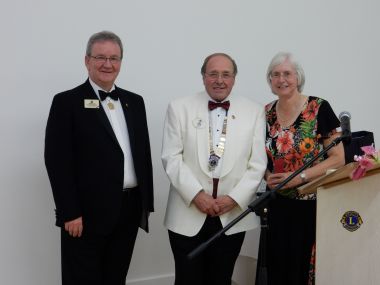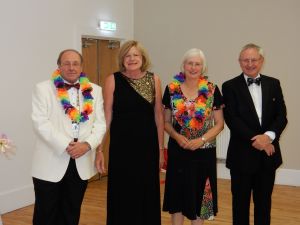 Garlands were presented to DG Alan and Anne by Lions Kris and John Smith from Salisbury Lions Club.
The evening was arranged by Sergeant-at-Arms Lion Dave Ebsworth who did a splendid job as Master of Ceremonies. Grace was read by 2nd Vice Lion Peter Burnett and the Loyal Toast was given by Lion Bryan Smith, president of Salisbury Lions Club.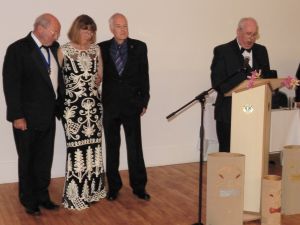 The toast to Lions International was given by the outgoing DG Lion Mike Hendy who expertly steered the District through 2014-15. Mike sprung a surprise on his wife, PDG Lion Brigid Hendy by presenting her with a very well deserved Melvin Jones Fellowship Award on behalf of Bracknell and Burnham Clubs and 'himself' for all that she has done for the community and the Lions movement.

[Photo: Lion Steve Pope - Bracknell, PID Howard, PDG Brigid & Lion Steve Spencer - Burnham]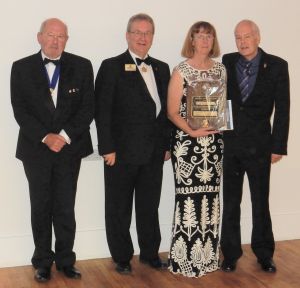 The Lions Clubs International Purposes were read by 1st Vice Lion David Taylor prior to the installation of DG Alan.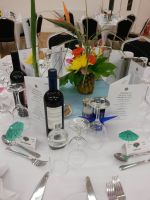 The raffle prizes ranged from a rocking horse to a case of wine and was enjoyed by all and then followed by dancing to Mustang Sally Disco run by Lion Rob Clarke.
Best wishes to DG Alan and Anne for a great year leading our District.
See more photos in the gallery.