Becoming a Lion
An Introduction to what it means to be a Lion by Peter Tabb - download the PDF booklet

Facebook feed
What's on
February

2017

Venue

Time/Details

Sat 25th

Sandown and Shanklin Charter Dinner

1VDG Peter Burnett attending

March

2017

Venue

Time/Details

Wed 1st

St David's Day

Sat 4th

Salisbury Charter Dinner

7pm

Fri 10th

Windsor Charter Dinner

Sat 11th

Hook and Odiham 30th Charter Dinner

Hartley Wintney Golf Club; Park Corner Road; Hartley Wintney; RG27 8PT

7 for 7:30pm DG Attending

Sun 12th

IOW Newport Charter Lunch

Fri 17th

St Patrick's Day

Sat 18th

Poole Charter Lunch

Fri 24th

24th-26th

Fri 24th

District Cabinet Meeting

4pm

Sun 26th

Mothering Sunday

April

2017

Venue

Time/Details

Sun 2nd

Bridport Charter Lunch

DG attending

Sat 8th

Gosport and Lee-on-Solent Charter Dinner

Sun 9th

Bournemouth Charter lunch

DG Attending

Fri 14th

Good Friday

Mon 17th

Easter Monday

Thu 20th

Council of Governors Meeting

Blackpool

Fri 21st

Blackpool

21st-23rd

Sun 23rd

St George's Day

Sat 29th

Basingstoke 50th Charter Dinner

DG attending

May

2017

Venue

Time/Details

Mon 1st

May Day

Sat 6th

Westbury Charter Dinner

1VDG Peter Burnett attending

Sun 7th

Spring Forum

Sun 7th

Mon 8th

Finance Committee Meeting

Conference Call

7:30pm

Fri 12th

Sat 20th

Yateley Charter Dinner

DG attending

Sun 21st

District Cabinet Meeting

Hilton Southampton; Bracken Place; Chilworth; Southampton SO16 3RB

10:30am

Sun 21st

Hilton Southampton; Bracken Place; Chilworth; Southampton SO16 3RB

2pm (1 of 3 identical sessions)

Sun 21st

GMT/GLT Meeting

Hilton Southampton; Bracken Place; Chilworth; Southampton SO16 3RB

2:30pm

Mon 22nd

7:30pm (2 of 3 identical sessions)

Mon 29th

Spring Holiday

June

2017

Venue

Time/Details

Sun 4th

Newbury Charter Lunch

DG attending

Wed 7th

7:30pm (3 of 3 identical sessions)

Sat 17th

Reading Charter Dinner

Sun 18th

Father's Day

Fri 30th

International Convention

Chicago; Illinois; USA

30th-5th July

July

2017

Venue

Time/Details

Sun 16th

St. Leonards Hotel; 185 Ringwood Road; St Leonards; Ringwood BH24 2NP

1pm to follow Cabinet Meeting

August

2017

Venue

Time/Details

Mon 28th

Summer Holiday

September

2017

Venue

Time/Details

Sat 23rd

GMS Charter Dinner

October

2017

Venue

Time/Details

Tue 31st

Halloween

November

2017

Venue

Time/Details

Sun 12th

Remembrance Sunday

Sat 18th

Wimborne and Ferndown Charter Dinner

DG attending

Thu 30th

St Andrew's Day

December

2017

Venue

Time/Details

Mon 25th

Christmas Day

Tue 26th

Boxing Day

March

2018

Venue

Time/Details

Fri 23rd

District Convention

23rd-25th

The above dates may change without warning
District Newsletter
Download the latest District Newsletter...
District Handover
For pictures of the District Handover at the Southampton Hilton. More...
District Convention
For the report on the 51st District Convention at Winchester from 18th - 20th March. More...
MD PR Strategy
There is a new document outlining the Multiple District Public Relations strategy for 2015-16. More...
Your Club, Your Way
Download summary notes from PDG David Merchant's Convention workshop:
District Directory
If you wish to download the District Directory, follow this link and then click on the Members tab and log-in. More...
Passwords

2016/17 Cabinet Officers and Club Officers may obtain a user name and set their passwords or existing users may reset their passwords via this link: Password reset
Membership
Download a membership application form for clubs. More...
Monthly mailing
The District Secretary monthly mailing has been replaced with a page of links where you may download relevant PDF files. More...
District Convention 2017

The 52nd Annual Convention for Lions District 105D will take place on Saturday 25th March 2017 at the Wessex Hotel, Bournemouth. Full details are on the Convention website and an on-line booking form is now available. Further details...
Paultons Park 2017 announced
This year's visit to Paultons Park is on Sunday 7th of May and tickets may now be purchased by clubs. Further details...
Christmas wishes

The Christmas wishes for DG David's Christmas appeal has raised £110.00! Further details...
Results of 2016-17 MD Peace Poster Competition

To see the winners of the 2016-17 Peace Poster Competition. Further details...

International President's Certificate of Appreciation
Congratulations to Immediate Past District Governor Alan Chapman on being awarded the International President's Certificate of Appreciation. Further details...
New Members
We are proud to welcome 16 new members into Lions Clubs throughout District 105D. Further details...
The Formation of Lions Clubs
In our Centennial Year see how Lions Clubs International grew into the 2.4 million strong organisation it is today in over 200 countries around the world in our Centennial video collection. Further details...
Club Centennial Awards

Congratulations to 40 of our Clubs for completing Centennial Challenges in 2015-16: Further details...
Recruitment and Retention event
Following on from our very successful event on Monday 3rd October at the Hilton Hotel, Southampton PDG David Merchant has produced some very useful notes. Further details...
Special Olympics GB
DISTRICT 105D SUPPORT THE SPECIAL OLYMPICS

In 2010 I listened to Lawrie McMenemy address our national convention in Leeds. He reduced many of us to tears of emotion as he described his work with the Special Olympics organisation and his speech motivated me to volunteer at the next national games in Bath in 2013.
It proved to be the most fulfilling, and rewarding, week of my time as a member of Lions Clubs! Together with the dozens of other Lions from around the country, including many from our own District, I experienced the same emotions Lawrie had described 3 years earlier. This was the true meaning of what we do in Lions - "We Serve".
In 2016, my experiences led my son, who lives in Los Angeles, to volunteer at the Worldwide Games in California - with the same result.
In 2017 - our Centennial year - Lions will again be supporting the next National Special Olympics GB (SOGB) Games in Sheffield with 3,000 athletes and 5,000 family members (many from our area) by providing the Families Programme. I will be there working directly for SOGB as an event coordinator at the football tournament.
Before that happens, I am proud to say that Lawrie McMenemy has accepted my invitation to speak at our District Convention in Bournemouth; local Special Olympics athletes will also be there as meters and greeters.
Consequently, I am asking the Clubs and Members of District 105D to raise funds and donate them to our District Special Olympics Appeal Fund. Why? Please visit our Special Olympics website page and take time to view the videos. /news/specialolympics.html
Thank you
David Taylor
District Governor 105D
& Special Olympics Volunteer
District Handover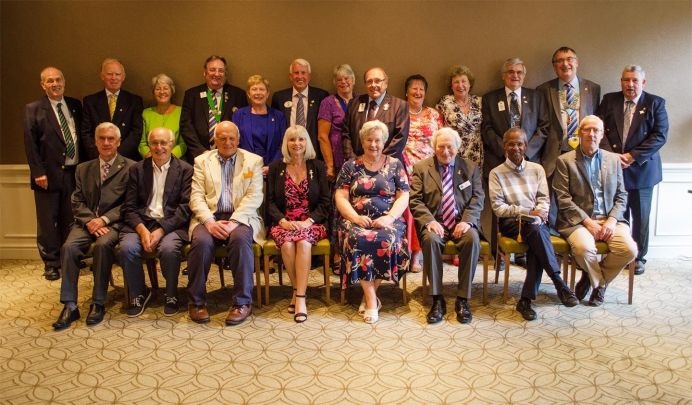 Over 80 Lions from throughout the South of England with their partners and guests gathered at the Hilton Hotel, Southampton on 17th July for the District Handover. This a formal handover celebration took the form of a cream tea when Lions members from as far afield as the Channel Islands to Maidenhead and Warminster to Windsor met to thank the outgoing District Governor Alan Chapman and welcome the incoming District Governor David Taylor. Also formally welcomed were members of the 2016/17 Cabinet, pictured above. The new Zone Chairmen are seated and the remaining Cabinet are standing in this group photograph.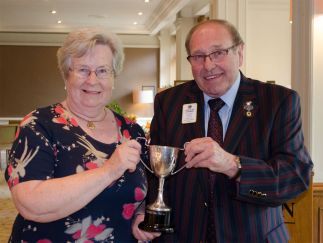 During the Handover the presentations included the trophy for the best Zone Chairman, awarded by the outgoing District Governor to the Zone Chairman who has accomplished most within the District. The 2015/16 award was made to Jenny Bithell of Hythe & Waterside Lions Club. Jenny's Zone covered Lions Clubs in Christchurch, Hythe and Waterside, Lymington and Brockenhurst, New Milton and Ringwood & Fordingbridge. Immediate Past District Governor Alan Chapman is pictured with Jenny to recognise her achievements with the Lions Clubs in her Zone.

Peter Burnett is the newly elected 1st Vice District Governor who will be attending the 2017 International Convention in Chicago with 50,000 Lions from Clubs worldwide. They will be there to learn about the work of Lions Clubs across the globe, projects and Lions initiatives locally and within nations that help others as part of the Lions Motto 'We Serve'. Peter will take with him the District 105D Centenary Flag (pictured below) which is being signed by members of every Lions Club in the south of England.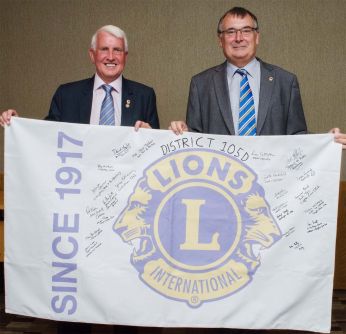 This banner will join together with the flags of over 700 other Districts globally in the mass parade as a sign of Lions working together to help others.
With 2017 being the Lions Clubs International Centenary year District 105D will be taking on the Lions Centenary Challenge to serve 100 million people worldwide by July 2018. Already Lions Clubs are reaching out to help those in their communities nationally and globally by supporting youth in their communities, preventing unnecessary blindness by funding and running sight screening clinics and educational events, relieving hunger by improving access to healthy food within their communities and protecting the environment making their communities healthier places to live.
To view the Handover Picture Gallery Click Here
The Colin Rickman Award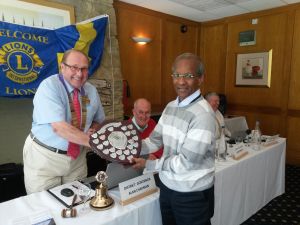 DG Alan Chapman presenting the Colin Rickman Youth Award to Eastleigh Lions Club via Lion Devan Kandiah at the District Cabinet meeting on Sunday 22nd May 2016.
The 51st Annual Convention 2016

"Motoring into Winchester"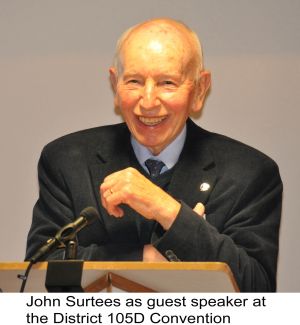 The weekend of 18th - 20th March saw over 150 Lions from 43 Lions Clubs from throughout the South of England assemble at the Holiday Inn at Winchester for the 51st Annual Convention.
Former motorcycle and Formula 1 World Champion John Surtees CBE gave an inspirational speech about his motor racing career and the Henry Surtees Foundation.
For more about the District 105D Convention click here

Watch a video from "Hearing Dogs for Deaf People"