District Handover - Sunday 8th July 2018 12:30pm
White Hart Hotel, 1 St John's Street, Salisbury, Wiltshire SP1 2SD
On behalf of District Governor Peter Burnett and District Governor Elect Ken Staniforth you are invited to this year's District Handover.
This is our annual chance to acknowledge the contributions of the current District Officers and also to welcome the incoming 2018-2019 District Officers, including the Zone Chairs who have once again been elected by all the Clubs for the forthcoming year.
District Handover 2017/18
District Handover was on the 16th of July 2017 at St. Leonards Hotel, 185 Ringwood Road, St Leonards, Ringwood BH24 2NP at 1:00pm following the Cabinet Meeting.
District Handover 2016/17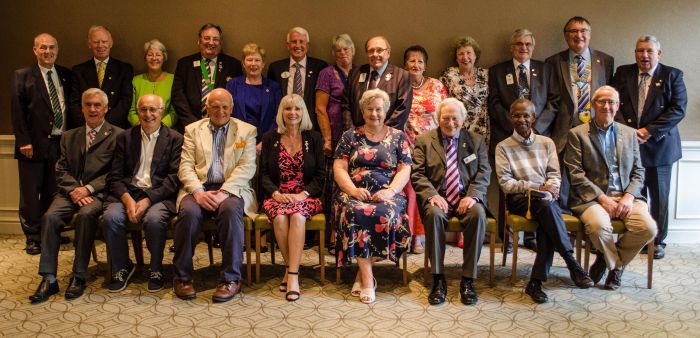 Over 80 Lions from throughout the South of England with their partners and guests gathered at the Hilton Hotel, Southampton on 17th July for the District Handover. This a formal handover celebration took the form of a cream tea when Lions members from as far afield as the Channel Islands to Maidenhead and Warminster to Windsor met to thank the outgoing District Governor Alan Chapman and welcome the incoming District Governor David Taylor. Also formally welcomed were members of the 2016/17 Cabinet, pictured above. The new Zone Chairmen are seated and the remaining Cabinet are standing in this group photograph.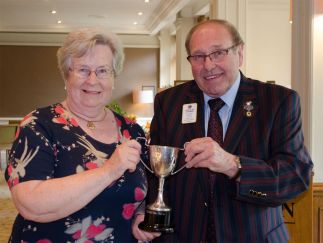 During the Handover the presentations included the trophy for the best Zone Chairman, awarded by the outgoing District Governor to the Zone Chairman who has accomplished most within the District. The 2015/16 award was made to Jenny Bithell of Hythe & Waterside Lions Club. Jenny's Zone covered Lions Clubs in Christchurch, Hythe and Waterside, Lymington and Brockenhurst, New Milton and Ringwood & Fordingbridge. Immediate Past District Governor Alan Chapman is pictured with Jenny to recognise her achievements with the Lions Clubs in her Zone.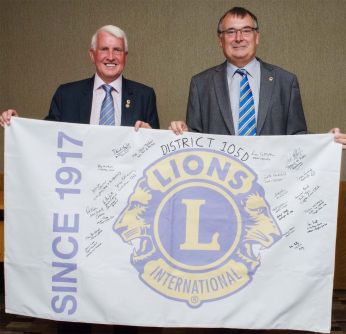 Peter Burnett is the newly elected 1st Vice District Governor who will be attending the 2017 International Convention in Chicago with 50,000 Lions from Clubs worldwide. They will be there to learn about the work of Lions Clubs across the globe, projects and Lions initiatives locally and within nations that help others as part of the Lions Motto 'We Serve'. Peter will take with him the District 105D Centenary Flag (pictured below) which is being signed by members of every Lions Club in the south of England. This banner will join together with the flags of over 700 other Districts globally in the mass parade as a sign of Lions working together to help others.
With 2017 being the Lions Clubs International Centenary year District 105D will be taking on the Lions Centenary Challenge to serve 100 million people worldwide by July 2018. Already Lions Clubs are reaching out to help those in their communities nationally and globally by supporting youth in their communities, preventing unnecessary blindness by funding and running sight screening clinics and educational events, relieving hunger by improving access to healthy food within their communities and protecting the environment making their communities healthier places to live.
To view the Handover Picture Gallery Click Here