Moving Clubs Forward
Summary of the main points discussed at the recent Seminar held in Southampton. More...
Ideas anyone?
PRO Richard Keeley has started a Lions District 105D Ideas Group on Facebook to discuss and share good ideas for Lions Clubs publicity, events and projects. Why not join in? More...
DBS
Full details of the Disclosure & Barring Service application procedure. More...
Becoming a Lion
An Introduction to what it means to be a Lion by Peter Tabb - download the PDF booklet

Facebook feed
What's on
June

2018

Venue

Time/Details

Fri 29th

Christchurch Charter Dinner

Fri 29th

Las Vegas; Nevada; USA

Weekend+

July

2018

Venue

Time/Details

Sun 8th

White Hart Hotel; 1 St John's Street; Salisbury; Wiltshire SP1 2SD

10:30am

Sun 8th

White Hart Hotel; 1 St John's Street; Salisbury; Wiltshire SP1 2SD

12:30 for 1pm

Fri 20th

Warminster Charter Dinner

7 for 7:30pm Black Tie

August

2018

Venue

Time/Details

Mon 27th

Summer Holiday

September

2018

Venue

Time/Details

Sat 22nd

GMS Charter Dinner

October

2018

Venue

Time/Details

Sun 14th

Maidenhead Charter Lunch

Grovefield House Hotel; Taplow Common Road; Burnham; Slough SL1 8LR

Wed 31st

Halloween

November

2018

Venue

Time/Details

Sun 11th

Remembrance Sunday

Fri 30th

St Andrew's Day

December

2018

Venue

Time/Details

Tue 25th

Christmas Day

Wed 26th

Boxing Day

January

2019

Venue

Time/Details

Tue 1st

New Year's Day

February

2019

Venue

Time/Details

Thu 14th

Valentine's Day

March

2019

Venue

Time/Details

Fri 1st

St David's Day

Sun 17th

St Patrick's Day

Sun 31st

Mothering Sunday

April

2019

Venue

Time/Details

Fri 19th

Good Friday

Mon 22nd

Easter Monday

Tue 23rd

St George's Day

May

2019

Venue

Time/Details

Mon 6th

May Day

Mon 27th

Spring Holiday

June

2019

Venue

Time/Details

Sun 16th

Father's Day

The above dates may change without warning
District Newsletter
Download the latest District Newsletter...
District Handover
For pictures of the District Handover at the Southampton Hilton. More...
District Convention
Report on the 52nd District Convention at Bournemouth. More...
MD PR Strategy
There is a new document outlining the Multiple District Public Relations strategy for 2015-16. More...
Your Club, Your Way
Download summary notes from PDG David Merchant's Convention workshop:
District Directory
If you wish to download the District Directory, follow this link and then click on the Members tab and log-in. More...
Passwords
2017/18 Cabinet Officers and Club Officers may obtain a user name and set their passwords or existing users may reset their passwords via this link: Password reset
Membership
Download a membership application form for clubs. More...
Monthly mailing
The District Secretary monthly mailing has been replaced with a page of links where you may download relevant PDF files. More...
GDPR for clubs
Many clubs continue to be confused by various advice given recently so I have created a simple one-page practical list of what your club needs to do. Note that you do not need to seek consent from members nor volunteer helpers when you record their personal details. Tom Sayers - District Webmaster More...
Paultons Park
Sunday 17th June 2018

Each year the Lions Clubs in District 105D provide a Paultons Park "Day out with the Lions" for those less fortunate, disabled and vulnerable members of our community who would really enjoy a day of fun at Paultons Park in the New Forest. More...
District Handover - Sunday 8th July 2018 12:30pm
White Hart Hotel, 1 St John's Street, Salisbury, Wiltshire SP1 2SD
On behalf of District Governor Peter Burnett and District Governor Elect Ken Staniforth you are invited to this year's District Handover.
This is our annual chance to acknowledge the contributions of the current District Officers and also to welcome the incoming 2018-2019 District Officers, including the Zone Chairs who have once again been elected by all the Clubs for the forthcoming year. Book now...
District Convention 2018
The 53rd Annual Convention for Lions District 105D took place on Saturday 24th March 2018 at the Royal Beach Hotel, Southsea, Portsmouth. See the report.
Lions Clubs celebrate a 'Century of Service' at Buckingham Palace
The Countess of Wessex G.C.V.O. as Patron of Lions Clubs of the British Isles held a Royal Reception at Buckingham Palace on Wednesday, 28th February to celebrate a 'Century of Service'. HRH has been our Patron since 2004.
Hundreds of Lions members joined together for the 100th Birthday of Lions Clubs International to celebrate this landmark anniversary with the organisations' partners.
Lion Phil Nathan MBE, Chair of the Centenary Celebrations for Lions Clubs of the British Isles said "let me begin by saying that during our 1st Century of service, Lions Clubs have touched millions of lives of people that needed us. 100 years of service to the community is a remarkable achievement, made possible by the selfless actions of many thousands of individual men and women, each of whom has sought to make 'their' community a better place. As we enter our 2nd Century, the cry for help from those in need will most certainly become louder and we as volunteers are ready to show as Lions, We Care".
Lions Clubs International focusses through its Lions and Leos members upon major projects that address diabetes, youth, the environment, hunger relief, childhood cancer and sight issues affecting communities throughout the world.
See the event brochure and learn more about Lions Clubs in the British Isles
Council of Governors Chairman 2018-19

At the Council of Governors meeting on the 26th of January, the 1st VDGs interviewed and selected the Council of Governors Chair for 2018-19.
By unanimous decision, our District Governor, Lion Peter Burnett, was duly elected and has accepted the position. Congratulations Peter!
DG Partner Charity

The DG Partner Charity this year is Different Strokes. Read Debbie's story.
MD Peace Poster winner 2017-18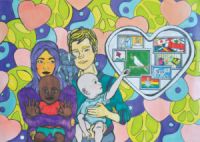 The winner of this year's MD Peace Poster competition was not from our District as previously displayed here. The winning entry was created by Mia Reed aged 13, sponsored by Clacton-on-Sea Lions Club in District 105E. Mia's poster was chosen as a merit award winner in the 30th Annual Lions International Peace Poster Contest.
Our apologies for the earlier misleading item.
Re-districting
The International Board has now approved the re-districting as agreed at the MD Convention in Blackpool. Both the Council of Governors and our Cabinet will, as soon as possible, be working on the logistics of making the transition. Some Lions have asked if they can make contact with the Clubs near them who will be joining us in District SC in July 2019. At the moment please do not do that as we need to work out the "big picture" before getting down to individual Clubs. I think the first contact we will make with the new Clubs will be to invite them to our Convention in March.
Peter Burnett - District Governor
District Governor 2017-2018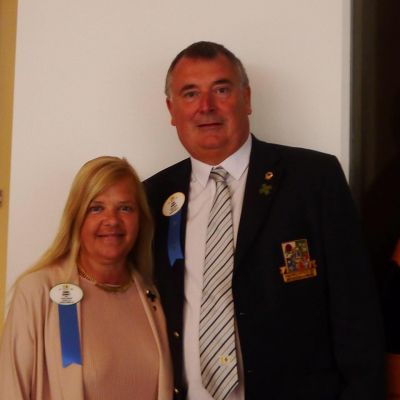 As of the 1st of July we have a new District Governor, Lion Peter Burnett of Wimborne and Ferndown Lions Club, shown in Chicago with his wife Lion Debbie, also of Wimborne and Ferndown.
International President's Certificate of Appreciation
Congratulations to Immediate Past District Governor Alan Chapman on being awarded the International President's Certificate of Appreciation. Further details...
New Members
We are proud to welcome 16 new members into Lions Clubs throughout District 105D. Further details...
The Formation of Lions Clubs
In our Centennial Year see how Lions Clubs International grew into the 2.4 million strong organisation it is today in over 200 countries around the world in our Centennial video collection. Further details...
Club Centennial Awards
Congratulations to 40 of our Clubs for completing Centennial Challenges in 2015-16: Further details...
Recruitment and Retention event
Following on from our very successful event on Monday 3rd October at the Hilton Hotel, Southampton PDG David Merchant has produced some very useful notes. Further details...
Special Olympics GB
DISTRICT 105D SUPPORT THE SPECIAL OLYMPICS

In 2010 I listened to Lawrie McMenemy address our national convention in Leeds. He reduced many of us to tears of emotion as he described his work with the Special Olympics organisation and his speech motivated me to volunteer at the next national games in Bath in 2013.
It proved to be the most fulfilling, and rewarding, week of my time as a member of Lions Clubs! Together with the dozens of other Lions from around the country, including many from our own District, I experienced the same emotions Lawrie had described 3 years earlier. This was the true meaning of what we do in Lions - "We Serve".
In 2016, my experiences led my son, who lives in Los Angeles, to volunteer at the Worldwide Games in California - with the same result.
In 2017 - our Centennial year - Lions will again be supporting the next National Special Olympics GB (SOGB) Games in Sheffield with 3,000 athletes and 5,000 family members (many from our area) by providing the Families Programme. I will be there working directly for SOGB as an event coordinator at the football tournament.
Before that happens, I am proud to say that Lawrie McMenemy has accepted my invitation to speak at our District Convention in Bournemouth; local Special Olympics athletes will also be there as meters and greeters.
Consequently, I am asking the Clubs and Members of District 105D to raise funds and donate them to our District Special Olympics Appeal Fund. Why? Please visit our Special Olympics website page and take time to view the videos. /news/specialolympics.html
Thank you
David Taylor
District Governor 105D
& Special Olympics Volunteer