Moving Clubs Forward
Summary of the main points discussed at the recent Seminar held in Southampton. More...
Ideas anyone?
PRO Richard Keeley has started a Lions District 105D Ideas Group on Facebook to discuss and share good ideas for Lions Clubs publicity, events and projects. Why not join in? More...
DBS
Full details of the Disclosure & Barring Service application procedure. More...
Becoming a Lion
An Introduction to what it means to be a Lion by Peter Tabb - download the PDF booklet

Facebook feed
What's on

notable
District Newsletter
Download the latest District Newsletter...
District Handover
For pictures of the District Handover at the Southampton Hilton. More...
District Convention
For the report on the 51st District Convention at Winchester from 18th - 20th March. More...
MD PR Strategy
There is a new document outlining the Multiple District Public Relations strategy for 2015-16. More...
Your Club, Your Way
Download summary notes from PDG David Merchant's Convention workshop:
District Directory
If you wish to download the District Directory, follow this link and then click on the Members tab and log-in. More...
Passwords
2017/18 Cabinet Officers and Club Officers may obtain a user name and set their passwords or existing users may reset their passwords via this link: Password reset
Membership
Download a membership application form for clubs. More...
Monthly mailing
The District Secretary monthly mailing has been replaced with a page of links where you may download relevant PDF files. More...
District Convention 2018
23-25 March 2018
Royal Beach Hotel, Southsea PO4 0RN
Do join in the fun and be there at our Annual General Meeting. See the District Convention 2018 website for full details

47 days until bookings close
DG Partner Charity

The DG Partner Charity this year is Different Strokes. Read Debbie's story.
District 105D win the MD Peace Poster competition 2017-18
MD Peace Poster 2017-2018 Winner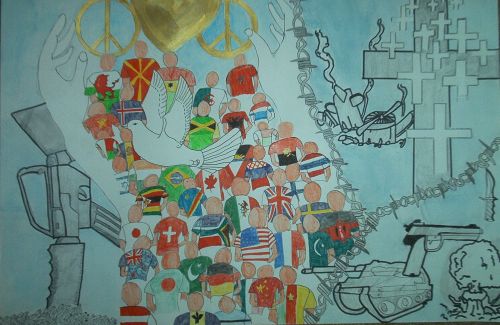 Joseph Durwood age 12 from Ringwood school sponsored by the Lions Club of Ringwood & Fordingbridge.
Joseph's quote on Peace "Turning their backs on war"
Petersfield Lions Club came second with their Peace Poster entry

Peace Poster Further details...
Re-districting
The International Board has now approved the re-districting as agreed at the MD Convention in Blackpool. Both the Council of Governors and our Cabinet will, as soon as possible, be working on the logistics of making the transition. Some Lions have asked if they can make contact with the Clubs near them who will be joining us in District SC in July 2019. At the moment please do not do that as we need to work out the "big picture" before getting down to individual Clubs. I think the first contact we will make with the new Clubs will be to invite them to our Convention in March.
Peter Burnett - District Governor
District Governor 2017-2018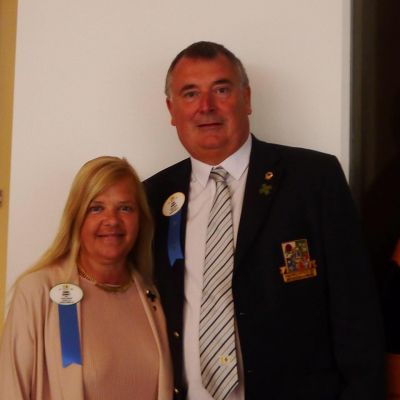 As of the 1st of July we have a new District Governor, Lion Peter Burnett of Wimborne and Ferndown Lions Club, shown in Chicago with his wife Lion Debbie, also of Wimborne and Ferndown.
District 105D Welcomes Lawrie McMenemy to our Convention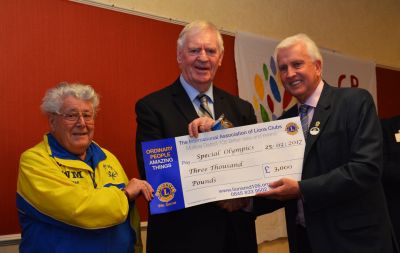 The 52nd Annual Convention for Lions District 105D took place on Saturday 25th March 2017 at the Wessex Hotel, Bournemouth.

Our guest speaker was Lawrie McMenemy most famously known as the Manager of Southampton Football Club during their most successful period in history, guiding his team to FA Cup victory in 1976 against Manchester United. As Southampton Manager, Lawrie also introduced an enhanced youth development policy. Graduates of this programme include England internationals Mark Wright, Matthew Le Tissier and Alan Shearer.
Lawrie was appointed Chairman of Special Olympics Great Britain in 2004. He was awarded an MBE Honours by Her Majesty Queen Elizabeth II in 2006 and was made a Freeman of the City of Southampton in 2007. Lawrie is an Ambassador for the Football Association, President of Age Concern, Hampshire, and also supports the Alzheimer's Society and the Hampshire Autistic Society.
As well as serving as President and former Chairman of the Board of Directors from 2004 until 2010, Lawrie is highly regarded Ambassador for Special Olympics GB and we were pleased to welcome him to our 2017 Convention.
International President's Certificate of Appreciation
Congratulations to Immediate Past District Governor Alan Chapman on being awarded the International President's Certificate of Appreciation. Further details...
New Members
We are proud to welcome 16 new members into Lions Clubs throughout District 105D. Further details...
The Formation of Lions Clubs
In our Centennial Year see how Lions Clubs International grew into the 2.4 million strong organisation it is today in over 200 countries around the world in our Centennial video collection. Further details...
Club Centennial Awards
Congratulations to 40 of our Clubs for completing Centennial Challenges in 2015-16: Further details...
Recruitment and Retention event
Following on from our very successful event on Monday 3rd October at the Hilton Hotel, Southampton PDG David Merchant has produced some very useful notes. Further details...
Special Olympics GB
DISTRICT 105D SUPPORT THE SPECIAL OLYMPICS

In 2010 I listened to Lawrie McMenemy address our national convention in Leeds. He reduced many of us to tears of emotion as he described his work with the Special Olympics organisation and his speech motivated me to volunteer at the next national games in Bath in 2013.
It proved to be the most fulfilling, and rewarding, week of my time as a member of Lions Clubs! Together with the dozens of other Lions from around the country, including many from our own District, I experienced the same emotions Lawrie had described 3 years earlier. This was the true meaning of what we do in Lions - "We Serve".
In 2016, my experiences led my son, who lives in Los Angeles, to volunteer at the Worldwide Games in California - with the same result.
In 2017 - our Centennial year - Lions will again be supporting the next National Special Olympics GB (SOGB) Games in Sheffield with 3,000 athletes and 5,000 family members (many from our area) by providing the Families Programme. I will be there working directly for SOGB as an event coordinator at the football tournament.
Before that happens, I am proud to say that Lawrie McMenemy has accepted my invitation to speak at our District Convention in Bournemouth; local Special Olympics athletes will also be there as meters and greeters.
Consequently, I am asking the Clubs and Members of District 105D to raise funds and donate them to our District Special Olympics Appeal Fund. Why? Please visit our Special Olympics website page and take time to view the videos. /news/specialolympics.html
Thank you
David Taylor
District Governor 105D
& Special Olympics Volunteer