International Convention
Honolulu - 26th to 30th June 2015
Aloha Lions! The 98th Lions Clubs International Convention will be held in the beautiful city of Honolulu, Hawaii, USA from the 26th to the 30th of June 2015.

Honolulu is like paradise. Over 100 beaches surround Honolulu, more than any other city on the earth. You can relax on the white sandy beaches of Waikiki, hike the magical trails on Diamond Head crater, and view incredible waterfalls such as Waimea and Maunawili Falls are among the many favourites not be missed.

Further details are available on the International website More...
---
Toronto - 4th to 8th July 2014
LCI is making plans for an exciting 97th Lions Clubs Annual International Convention from the 4th to 8th of July 2014 in the city of Toronto, Ontario, Canada, and we enthusiastically invite you to join the celebration.
Toronto, Canada's most cosmopolitan city, is situated on beautiful Lake Ontario and is one of the most dynamic, culturally diverse and vibrant places on earth. Lions will find an abundance of vibrant night-life, stunning architecture, great museums, wonderful vintage stores, luxury shops and everything in between. Discover and experience a world of arts, culture and energy around every corner in a friendly atmosphere that welcomes everyone. Toronto is expecting you!
---
Hamburg - 5th to 9th July 2013
Introduction
I thought that it would be a good idea to produce a simple form of Newsletter for MD105 so that all those interested in attending future International Conventions can be kept up to date with the current situation for the forthcoming Convention, and learn also a little of what happened at the last one. To my knowledge, this has not been tried before so forgive any errors or omissions.
Fred - October 2012
Download Newsletter no. 1 pdf
---
Visit to Hamburg
Some useful feedback was received after the first Newsletter, for which the Team thank you
Lion Kumar and I have just been to Hamburg on a site visit, to look at all the selected Hotels, the Arena and the Messe / Convention Centre. We have also been to the Raddison Blu (DGE's Hotel) and other sites for our proposed functions. Read more by downloading the PDF file.
Fred - November 2012
Download Newsletter no. 2 pdf
---
Happy New Year!
Well, we hope you all had a peaceful and good Christmas, and what has been a momentous year for UK, 2012 is now behind us. May I, on behalf of the ICC Team, wish you all a very Happy New Year 2013. We now look forward to the International Convention in Hamburg.
As I mentioned in the last Newsletter, Lion Kumar and I visited Hamburg on a site visit in October, to look at all the selected Hotels, the Arena and the Messe/Convention Centre. We also visited the Raddison Blu (DGE's Hotel) and other sites for our proposed functions. We are delighted with the response from the first two Newsletters, and have now produced this current edition to bring you 'up to date' on what is happening for MD105 at Convention.
Fred - January 2013
Download Newsletter no. 3 pdf

---
MD Convention - Torquay
Well we are now on the final run down to Hamburg, and I am delighted to report that as at last week, we have some 317 members and partners registered to attend the International Convention, which is amazing and well done to everyone. I must just make one observation, however, and draw to your attention, that if you have not registered your spouse and/or partners on the LCI website, they will NOT be allowed entry to the Arena for the sessions, or the International Show or Parade nor to the registration and exhibition area, nor be allowed access on the shuttle busses. This is why the registration fees are charged per person. If anyone has not registered their spouse /partners, would suggest you do so now, to avoid any disappointment.
The ICC Team had a stand in the exhibition area at MD Convention at Torquay. This proved worthwhile and was very busy, answering questions and queries on Hamburg, and material for Toronto 2014 being handed out.
On Sunday afternoon, a briefing meeting was held for members going to Hamburg. From registration, we had assumed some 50-60 people would attend, but eventually some 112 came. The meeting room was enlarged by removal of a dividing wall. Lion Kumar gave a presentation on Hamburg, which was the same as given to the DGE's in January. This was meant to be informative but also amusing, and trust assisted some understanding of the area. The Team went through the events for the week, and the functions, and gave details of the shuttle bus arrangements from the Hotels to the event centres. Please be aware, however, that NO shuttle busses will be available to take members from Hotels / City to the B & I Reception, as this does not commence until 9pm and buses finish their days at approx. 6pm. Some protracted discussions (as always) were held on the Parade Uniform. This is stipulated by the Council of Governors, and normally follows a three-year theme. Hamburg will be the final year of the current three, and details of the Parade Uniform are as follows.
Parade Uniform
Male: Navy blazer with MD badge
White short sleeve shirt with MD badge
Grey trousers
Black shoes and dark socks
'Proud to Serve' tie
Female: Navy Jacket
Navy trousers (or skirt) to match
White camisole / tee -shirt
'Proud to Serve' scarf (worn loose around neck, outside jacket and looped over)
Navy handbag (for water - what else!)

Also - white blouse with MD badge for use at Plenary sessions (or if too hot to wear a jacket on the Parade)
This is the agreed MD uniform to be in the 'judged' section of the Parade. Other day wear can be worn, but members not wearing the approved uniform will have to join at the back of the MD105 group.
Download Newsletter no. 4 pdf
---
For your information the MD International Convention Committee for 2012-2013 consists of:-
Chairman - PDG Fred Massey
Deputy Chairman - PCC Philip Goodier
Third member - PCC David Firth
Travel Agent (Citibond) - Lion Kumar Acharya
---
Hamburg - 5th to 9th July 2013
The International Convention for 2013, is being held in Hamburg, Germany from 5th to 9th July. This is the first time an International Convention has been held in Europe, since our own in Birmingham in 1998. There is, therefore, not a better time (and lower costs) to visit Convention.
Every member who wishes to attend with their spouses/partners, and attend the Convention sessions/Exhibition/Shows etc must register both or all attending. This can be done 'on line' at the LCI website. You will find the page for Registration here. If you register before 31st December 2012 the cost is $100 per person, and then up to 31st March 2013 $130 per person, then after that date $150 per person. So early registration is best.
On the same form is request for hotel accommodation. LCI have pre-block-booked rooms at 72 Hotels, which is many more than normal, as the Hamburg hotels are smaller. MD105 has been allocated 4 hotels, which are as follows:-
Room rates are detailed on the LCI website. Parking can be booked direct with the hotels, once you have received confirmation (by post) from LCI.
The DGE's and partners will be housed in the Radisson Blu Hotel, which is close to the Congress Centre Hamburg CCH/Messe Centre.
The Convention itself is split between two centres. The Registration/Exhibition/offices/seminars etc., will be at the CCH and Messe in town, by the Alster Lake. The Convention Plenary sessions will be held at the 02 Arena, which is nearer to the hotels we have been selected, as above. Free shuttle buses will run every day of the Convention from the hotels to the CCH and the 02 Arena on regular return. The full programme for Convention can be found on the LCI website, as detailed above, and commences on Friday 5th July, and runs through till Tuesday 9th July, when the final plenary session will be held, which includes the induction of the new DG's and the new International President.
Update...
There was a major problem on the LCI website on 31st December, which was basically an overload, as so many members were trying to register. Lions Kumar spoke with Gloria Geske, and got a concession for the early booking fee, until 10am Oak Brook time on 4th January, and I sent an e mail to all the DG's advising of this.
In the last issue, I advised in detail of the 4 Hotels that LCI rooms has reserved for MD105, but rooms in these Hotels were only held until 31st December. I am sure they still have many available, but please do NOT delay in booking to avoid disappointment.
I would now like to advise you of the arrangements that have been made for our own MD105 events, whilst in Hamburg, and these are detailed below.
B & I Briefing Meeting
For every member, spouse, partner, guest that will be registered for Hamburg, we are holding the B & I Briefing Meeting as follows:-
This will be held at 7pm on Thursday 4th July, in the Grosser Festsaal at The Atlantic Kempinski Hotel, An der Alster 72-79, 20099 Hamburg Tel. +49 40 2888-811
This is situated on the main Alster Lake, and is some 10-15 minutes walk from the Radison Blu Hotel, and the nearest U Bahn station is Nord Haupt-Bahnhof (main railway station).
The briefing will last about 1.5 hours and will run through the entire programme for the week, and unless you are arriving later, should not be missed. A first free drink and nibbles will be provided. Other drinks on a cash basis.
B & I Reception
We have arranged the B & I Reception, commencing at 9pm as follows:-
Convention Hall 3 - Congress Centre Hamburg (CCH)
Am Dammtor / Marseiller Strasse, 20355 Hamburg Tel: +49 40 3569-3116
This is situated near the Centre, and is adjacent to the Radison Blu Hotel. The nearest U Bahn station Stephans Platz, and S Bahn train at Dammtor.
A ticket (admits 2 people) will be sent to all registered delegates before you travel to Hamburg. Further tickets may be available, and this depends upon the total number of bookings received from MD105, but with the numbers anticipated from MD105 plus our guests from around the world, are working on 1000 people attending.

We will provide desserts and fruit, plus tea and coffee free to all, and a cash bar will be available outside the Hall.
It would be appreciated if our own MD105 delegates are not late, so they can welcome and assist our International guests during their arrival. The reception is the time when we introduce our new team of DGE's to the Lions of the world, and also our incoming Council Chairman. Full details of this will be given at the Briefing Meeting on 4th July.
International Parade
The International Parade will be held on Saturday 6th July from 10am, and is not to be missed (all MD105 welcome to take part, subject to dress code).
We are in the green zone, and will 'step off' at about 10:45am or thereabouts. This is being held around the Lower Alster Lake, and shuttle busses will drop off at the joining area. Any members making their own way, just follow the crowd and make your way to the Town Hall square. The Parade route is about 1 mile, and will take some 2-3 hours altogether to complete. Please bring water bottles with you.
We have the services of an excellent local Pipe Band, and DG Jim Cawte will be bringing his restored PO van to lead the walking group, behind the band. This is a wonderful experience for every member to enjoy, but inevitably, some members may not be able to walk. An area of seating is provided at the end of the Parade, and tickets 'may' be available. Any members wishing to have seating tickets, please let David Firth know please.
Lion Kumar (Citibond) will be advertising pre and post convention packages, as well as the Convention period itself, but this will be for travel packages only. All accommodation, if you want to use an LCI Hotel, must be booked through the LCI website. There are of course, many bed and breakfast and smaller boutique hotels at cheaper rates, but need to be booked direct, as soon as possible. These will not have the complimentary shuttle buses. Find accomodation on TripAdvisor. Some Districts are, I am aware, in the process of arranging coaches from various locations around the MD, and your own District Officers will advise on this. You can also drive, of course.
This is the final Newsletter we shall produce (no. 4), before all going to Hamburg, so any queries, please let me know. Further local information can be found at english.hamburg.de

Please all have a great time, and see you there
Fred
---
Busan, South Korea - July 2012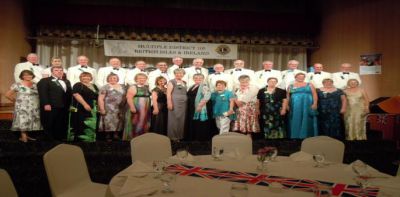 Busan, is the second city of South Korea, some 130 miles from Seoul The Convention was held in the BEXCO Centre, and was very interesting. The DGE's stayed in the Grand Hotel, and the rest of the contingent ( all 18 of us) stayed in various Hotels, many at the Centum, opposite the Convention centre. The Convention had almost 60,000 delegates, a world record for Lions, but only 35,000 or so attended Convention.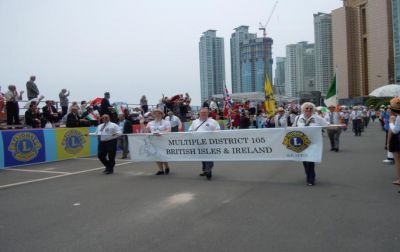 The Parade was spectacular as always, and we were delighted to win a prize with 'Iron Butterfly' our 20 strong all female Pipe band from Seoul.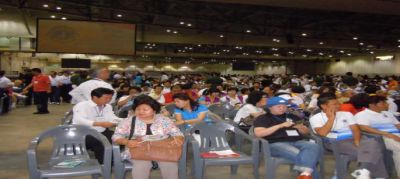 The B & I Reception was very well attended (over 600, which was maximum) and as usual everyone was seated. The formal handover from CC Tony Gadsby to new CC Martin Morgan took place, all the DG's were introduced and PID's Phil Nathan and Howard Lee welcomed the family of Lions, including the President.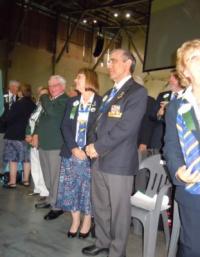 A couple of pictures, give some flavour of the week.
There is more on the LCI website
---
International Convention Team contact details
Chairman - PDG Fred Massey Tel: (h) 01252 616653 Email
Deputy Chair - PCC Philip Goodier Tel : (h) 01772 733452
Third Member - PCC David Firth Tel : (h) 01225 763878 Email
Travel Agent - Citibond Travel Lion Kumar Acharya Tel: (b) 0208 206 3634