Message from the District Governor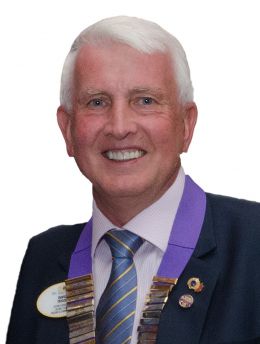 Welcome to the Lions Clubs International District 105D website for 2016/2017.
For 100 years Lions around the world have served their communities. From the introduction of white canes to helping draft the sections of the United Nations charter relating to non-governmental organisations in 1947.... we have served.
Lions provide clean water and tents to disaster areas but, more importantly, we are there to help rebuild communities after disaster strikes. Lions build hospitals and schools, dig water wells and combat disease through our measles programme and through various sight projects.
Where there's a need there's a Lion and, with 1.4 million members in 210 countries, there will be Lions on the ground in most disaster areas able to provide local knowledge, source materials locally and provide willing volunteers to help the relief effort.
Currently, our District 105D has 60 Clubs covering areas in Berkshire, Dorset, Hampshire, Isle of Wight, Wiltshire and the Channel Islands. All Lions work within their local communities to provide service to improve the lives of the less fortunate members of their local area. They also raise funds from their communities in a variety of ways including local public events. We all pride ourselves in the fact that every penny we collect goes back into the community - our administration costs are paid from the dues we pay annually (usually around 20p a day).
We often hear people say that they only want to work in their local community, but every disaster area is someone's local community. We just happen to be lucky in that we live in a part of the world virtually free of war, free of hunger and not subject to large-scale natural disasters. Our community should extend beyond the towns we live in to encompass all of the countries where there are Lions and beyond - which is why Lions are proud to serve: locally, nationally and internationally. I am pleased to say that our District has always been very responsive to emergency appeals and our Clubs have made significant donations.
To create and foster a spirit of understanding among the people of the world is a fantastic objective and I believe that we offer anyone interested in making a difference in their community and beyond a fantastic opportunity to serve.
If YOU would like to be part of the largest service organisation in the world, we would be very happy to talk to you and give you more information. If you click on the tab for Clubs, I am sure you will find there is a Club near you. All you have to do is contact the club of your choice and you will be invited to a meeting, social event or a fundraising event.
Thank you
David Taylor
District Governor