District 105D Convention 2016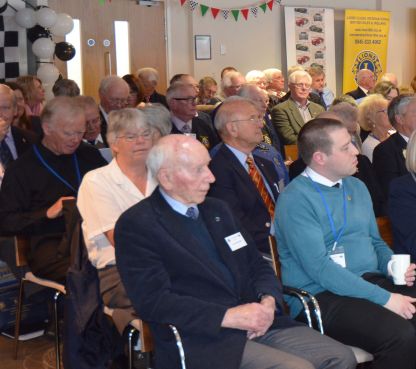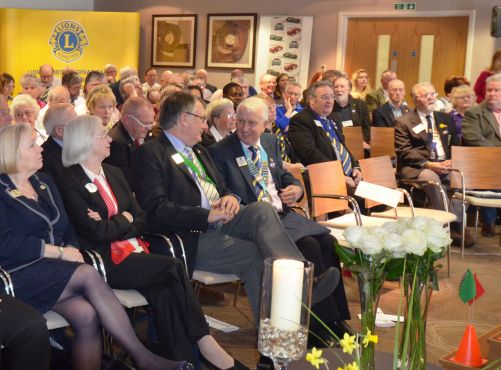 The 51st Annual Convention for Lions District 105D took place on Saturday 19th March at the Holiday Inn, Winchester. This annual get together for all Lions Clubs in the south of England including the Channel Islands not only acts as the annual general meeting for all 61 Lions Clubs in the south but is an excellent way of catching up with old friends at the meetings, workshops and associated social events throughout the weekend. The Host Night on Friday evening fully encapsulated the convention theme of 'Motoring into Winchester' when Lions and Guests dressed in weird and wacky interpretations of that theme. This fun event is the traditional 'ice breaker' ahead of a busy weekend.
The Convention Meeting started on the Saturday morning with District Governor Alan Chapman welcoming over 150 Lions and inviting the International Guest, Past International Director Howard Lee to carry out the formal opening ceremony.
A short act of remembrance followed to commemorate Lions Club members who have passed away in the last 12 months.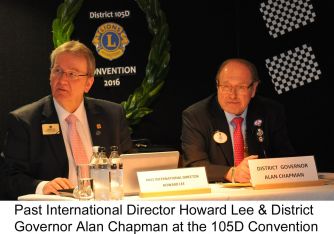 Nominations were presented for next year's District Governor - David Taylor of Gillingham, Mere & Shaftesbury Lions Club, 1st Vice District Governor - Peter Burnett of Wimborne & Ferndown Lions Club and Ken Staniforth of Salisbury Lions Club as 2nd Vice District Governor.
Further resolutions on the administration and running of Lions District 105D were presented and debated before the guest speaker John Surtees CBE was invited to speak about the Henry Surtees Foundation which he founded in memory of his son who died in a freak accident during a Formula 2 race in July 2009.
John Surtees is truly unique in Motorsport. He won seven World Motorcycle Championships between 1956 and 1960. Then, after making the transition from two wheels to four he won the Formula One World Championship with Ferrari in 1964. To this day this feat of winning World Championships on two and four wheels remains unparalleled.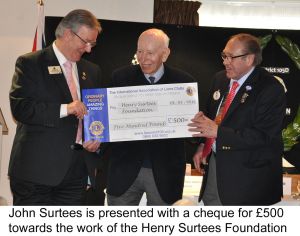 He spoke with passion on how the Henry Surtees Foundation (HSF) assists people with brain or physical injuries caused by accident to return to community living by the provision of support for equipment and facilities. The HSF acts as a resource for young people up to the age of 18 by providing advice and assistance and organising programmes of physical, educational and other activities in order to:-advance young people in life by helping them to develop their skills, capacities and capabilities so that they can participate in society as independent, mature and responsible individuals and advance their education and relieve unemployment.

Two helicopters now have blood transfusion equipment, funded by HSF.
District Governor Alan Chapman presented a cheque for £500 to John Surtees for the Henry Surtees Foundation.

With the popularity at past conventions of workshop sessions and open discussions in breakaway groups, 3 workshops were run after lunch:

1. The Lions Centennial in 2017 when a number of initiatives are being run to help honour our past, highlighting our present and planning for our future.
2. Membership retention, the formation of new Lions Clubs and branch clubs.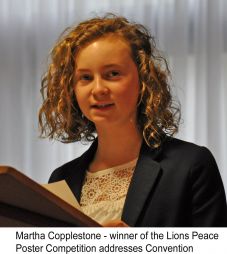 3. Leo Clubs, Alpha & Omega.
On reconvening the main meeting the District Governor's Team with the International Guest Past International Director, Lion Howard Lee gave a presentation on the boundary change proposals to Lions Districts throughout the UK.
The awards ceremony then took place for the inter club competitions throughout District 105, before District Governor Alan Chapman announced the results of the election for next year's District Governor Team. Lion David Taylor was elected as District Governor 2016/17,Lion Peter Burnett as 1st Vice District Governor 2016/17 and Lion Ken Staniforth as 2nd Vice District Governor for next Lionistic year. Each addressed Convention to outline the plans they have for the year to come and the challenges each club faces in the future.
Anne Chapman, wife of District Governor Alan then introduced Tim Green of Brain Tumour Research, the charity she has adopted as her DG's Partner Charity this year. Tim spoke about the work of the charity, the importance of research into this devastating disease. 16,000 people in the UK are diagnosed annually. Brain tumours kill more children and young people under 40 than any other cancer. Government grants amount to only 1% of research funding in the UK. Lions Clubs from throughout District 105D this year have made donations to the DG's Partner Charity fund and as a result a cheque for £500 was presented to Tim Green for Brain Tumour Research.
Rounding off the official business for the day 1st Vice District Governor elect introduced the Convention Host Committee who organised this year's event. The Host Committee for the 2017 Convention in Bournemouth was then introduced by Lion Geoff Byers before the handing over of the Convention Flag and the Closing Ceremony.
Although official business was finished for the day within a few hours the Banquet and Ball was under way. This black tie event made a sociably fitting end to a memorable day of Lions Business.
For the Business Meeting picture gallery click here...
For pictures of the exhibition stands click here...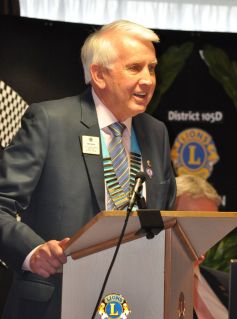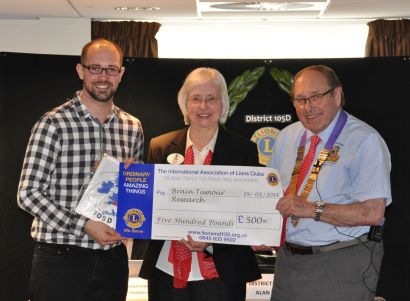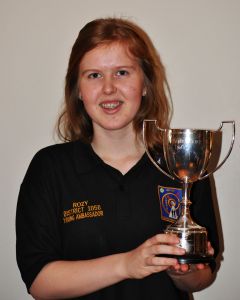 "Motoring into Winchester"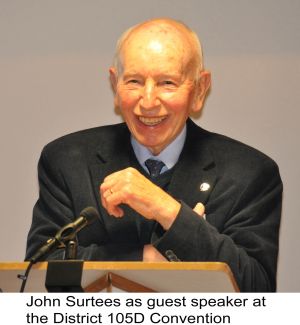 Former motorcycle and Formula 1 World Champion John Surtees CBE gave an inspirational speech about his motor racing career and the Henry Surtees Foundation.
Watch a video from "Hearing Dogs for Deaf People"