District 105D Convention 2017
Centennial Convention
See photos from the weekend in the gallery
The 52nd Annual Convention for Lions District 105D took place on Saturday 25th March 2017 at the Wessex Hotel, Bournemouth.

This annual get-together for all Lions Clubs in the south of England including the Channel Islands, not only acts as the annual general meeting for all 60 Lions Clubs in the south of England but is an excellent way of catching up with old friends at the meetings and associated social events throughout the weekend. This year's Convention celebrated the formation of Lions Clubs International 100 years ago in Chicago.
The Host Night on Friday evening fully encapsulated the convention theme of the Special Olympics when Lions and Guests dressed in a wide variety on that theme. This fun event is the traditional 'ice breaker' ahead of a busy weekend.
The Convention Meeting started on the Saturday morning with District Governor David Taylor welcoming all Lions and inviting the the Mayor of Bournemouth, Councillor Eddie Coope to carry out the formal opening ceremony.
A short act of remembrance followed, to commemorate Lions Club members who have passed away in the last 12 months.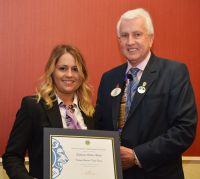 District Governor David Taylor then went on to thank the staff of the Wessex Hotel and presented a certificate of appreciation to the Convention coordinator, Stepahanie Hellier-Woods.
Nominations were presented for next year's District Governor - Peter Burnett of Wimborne & Ferndown Lions Club, 1st Vice District Governor - Ken Staniforth of Salisbury Lions Club. Nominations for 2nd Vice District Governor were accepted from Convention delegates. Lion Jarvis MacDonald from Westbury Lions Club was nominated as 2nd Vice District Governor.
Reports were given and resolutions discussed before the winners of the Peace Poster Competition and the District winner of the Young Ambassadors Contest were introduced to Convention.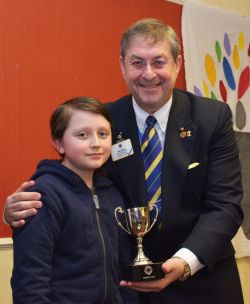 Ned Woodley sponsored by Ringwood & Fordingbridge Lions Club went through to compete in the Multiple District Peace Poster Competition. His quote on peace "Our perfect world growing from our love". Ned is pictured (left) with Past International Director Phil Nathan MBE.

The Young Ambassadors Contest winner Rosie Nicholls, sponsored by the Lions Club of Jersey was not able to attend Convention so Lion Peter Tabb explained how her community work has been recognised by Jersey Lions Club and the way her work in the community took her all the way to the Multiple District Young Ambassador's final in Dudley. Although she didn't win the national competition, her brave work in a sensitive area of Community Service with the NSPCC and with MIND Jersey and CAMHS together with her challenge to the Education Department has led to improved school PSHE lessons and the creation of Family SMILES which is for children with a parent suffering mental conditions. The group are also setting up a therapeutic service for children who have suffered sexual abuse. She even manages to find time to work in the British Red Cross shop on Saturdays! Rosie is visibly making a difference in the Jersey community which truly inspired us all.
The International Guest - Past International Director Phil Nathan inspired convention delegates when he explained how Lions best promote their work through service. The best form of publicity any Lions Club can attain is having the public acknowledge the service they do for others in their community and beyond. Carrying out projects such as the Lions Centennial Challenge provides a focus in this centenary year for the public to see how Lions are far exceeding their aim of helping 100 million people worldwide this year by already helping over 150 million people.
The ballot boxes were opened before lunch for the election of District Governor, together with 1st and 2nd Vice District Governors for 2017/18. The candidates were Peter Burnett of Wimborne & Ferndown Lions Club (District Governor), Ken Staniforth of Salisbury Lions Club (1st VDG) and Jarvis MacDonald of Westbury Lions Club as 2nd Vice District Governor.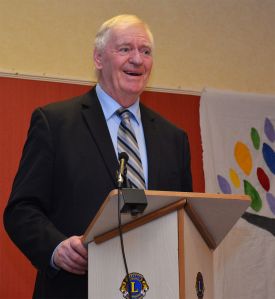 Following the break for lunch the results of the ballot were announced confirming Peter Burnett as District Governor for next year and Ken Staniforth and Jarvis MacDonald as 1st and 2nd Vice District Governors respectively. Pictures of Peter, Ken and Jarvis are below.
Our Guest Speaker Lawrie McMenemy MBE was then introduced to Convention by District Governor David Taylor.
Lawrie is most famously known as Manager of Southampton Football Club during their most successful period in history, guiding his team to FA Cup victory in 1976 against Manchester United. As Southampton Manager, Lawrie also introduced an enhanced youth development policy. Graduates of this programme include England internationals Mark Wright, Matthew Le Tissier and Alan Shearer.
Appointed Chairman of Special Olympics Great Britain in 2004 Lawrie was awarded an MBE Honours by Her Majesty Queen Elizabeth II in 2006 and was made a Freeman of the City of Southampton in 2007. He is also an Ambassador for the Football Association, President of Age Concern, Hampshire, and also supports the Alzheimer's Society and the Hampshire Autistic Society. Lawrie gave an amusing and candid look inside the world of football but also gave a passionate account of how the Special Olympics has changed his world and had a very positive impact on the lives of volunteers. As Lawrie finished his talk, DG David Taylor presented him with 2 cheques and donations totalling £5,500 for the Special Olympics, which represented the proceeds of DG David's charity appeal for 2016/17, a donation from District 105D and the proceeds of a special charity raffle at Convention.
District and International awards were followed by a change to the traditional closing ceremony. Tradition has until now been that "Land of Hope and Glory" is sung by all attending, but as this is the Lions Centenary year, Convention respected another centenarian - Dame Vera Lynne. "We'll Meet Again" was sung by all attending.
Convention day finished with a Banquet and Ball to make a perfect end to a very worthwhile and friendly event.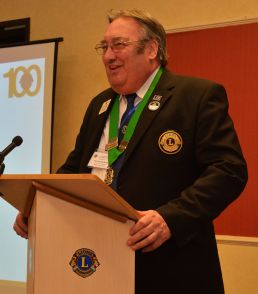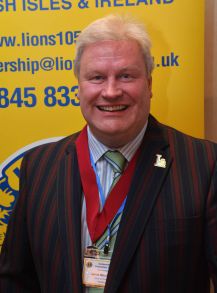 Sponsors
Asset Systems
7 Trinity
161 Old Christchurch Road
Bournemouth
Dorset BH1 1JU

Tel 01202 297655
Website www.assetsystems.co.uk

Club-Sites (Squarezone Ltd)
Pembroke House
8 St Christophers Place
Farnborough
Hampshire GU14 0NH

Tel 01252 517611
Website www.club-sites.co.uk

Slade Homes
51 Southbourne Grove
Southbourne
Bournemouth BH6 3QT

Tel 01202 428555
Website www.sladehomes.co.uk