District 105D Convention 2018
70s Convention
See photos from the Business Meeting in the gallery
See photos of the exhibition area in the gallery
The 53rd Annual Convention for Lions District 105D took place on Saturday 24th March 2018 at the Royal Beach Hotel, Southsea, Portsmouth.

This annual get-together for all Lions Clubs in the south of England including the Channel Islands, not only acts as the annual general meeting for all Lions Clubs in the south of England but is an excellent way of catching up with old friends at the meetings and associated social events throughout the weekend. This year's Convention theme was "The 70s".
The Host Night on Friday evening was a great success thanks to a super entertainer - Matt Black, the Piano Man who had everyone in tears of laughter. Lions and Guests dressed in a wide variety on the theme. This fun event is the traditional 'ice breaker' ahead of a busy weekend.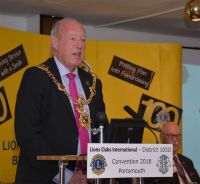 The Convention Meeting started on Saturday morning with District Governor Peter Burnett welcoming all Lions and inviting Councillor Ken Ellcome, Lord Mayor of Portsmouth to carry out the formal opening ceremony.
DG Peter then introduced other guests and principal officers; recognised Past District Governors and Lions attending their first Convention. Lion Teresa North read the Mission Statement.
A short act of remembrance followed, to commemorate Lions Club members who have passed away in the last 12 months.
The doors were opened and partners and guests departed. The AGM part then commenced with Minutes of the 52nd Convention proposed and seconded.
Nominations were presented for next year's District Governor - Ken Staniforth of Salisbury Lions Club. Lion Jarvis MacDonald from Westbury Lions Club was nominated for 1st Vice District Governor. Nominations for 2nd Vice District Governor were not forthcoming so may be decided at the special Convention on re-districting in September .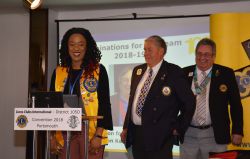 Reports were given as read and resolutions debated and voted on.
The winner of the Peace Poster Competition, Joseph Durwood (sponsored by Ringwood & Fordingbridge) and the winner of the Young Ambassadors Contest, Tanguy Billett-Masters (sponsored by Jersey) were introduced to Convention.

The first Guest Speaker - Dr Charles Fox of Diabetes UK gave an interesting talk and presented some scary facts resulting in delegates resolving to eat less and walk more.
The International Guest - Past International Director Kenneth Persson from Sweden inspired convention delegates when he explained how Lions might attract new members, younger members and retain existing members. Lion Kenneth and his wife PDG Eva were a joy to host - both full of fun and warmth.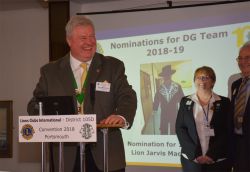 The ballot boxes were opened before lunch for the election of District Governor, together with 1st Vice District Governor for 2018/19. The candidates were Ken Staniforth of Salisbury Lions Club (DG) and Jarvis MacDonald of Westbury Lions Club (1stVDG).

This year, the DG suggested that instead of the usual workshops after lunch we should give club members a five minute slot to let Convention know what their club is currently up to and also invite a couple of extra Guest Speakers. These insights enabled Lions Clubs to detail the successes in fundraising and community work in the localities. Valuable lessons for other clubs to adopt and adapt to their needs.
PDG Lion Mike Hendy gave a presentation on the work that he and his wife PDG Brigid and Bracknell Forest Lions Club have achieved in bringing clean water to a village in The Gambia. You can read all about at www.gambia.bracknellforestlions.org.uk

Nicholas Orping from Hearing Dogs with the assistance of 2 very well behaved hearing dogs gave an insightful account of how hearing dogs give confidence, good company and independence to those with hearing difficulties.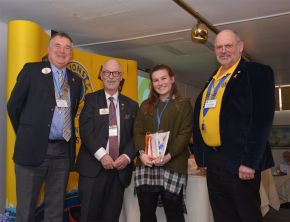 Convention was truly inspired by our next guest speaker - Molly Watt who gave a detailed account of Usher Syndrome the progressive condition from which she sufferers causing deaf blindness as well as giving considerable difficulties with mobility and communication. Molly's positive attitude and outlook on life shone through as she explained how she uses technology to help herself and others with this condition through the Molly Watt Trust. Check out her website www.molly-watt-trust.org to gain some appreciation of how this inspiring young lady is helping sufferers of Ushers Syndrome and raising public awareness.
The awards for winners of the District Competitions were presented with the Bill Field Sight Cup going to Salisbury Lions Club, the Ian Birch Membership Award to Gillingham, Mere and Shaftsbury Lions Club, the Brigid Hendy Website Award to Eastleigh Lions Club, the Graham Drayton Social Media award to Meon Valley Lions Club, the John Greenaway Award for International Activities to Bracknell Forest Lions Club and the Colin Rickman Award for Youth Activities went to Ringwood & Fordingbridge Lions Club. The full set of pictures for all these awards can be viewed from the online gallery. Click here to view and download these pictures.
The results of the ballot were announced confirming Ken Staniforth as District Governor for next year and Jarvis MacDonald as 1st Vice District Governor.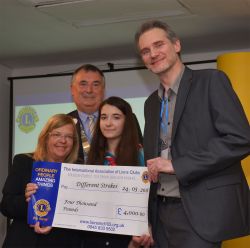 Our next Guest Speaker - Austin Willett from Different Strokes gave a passionate account of how nearly 40,000 young people every year in this country are suffering from strokes and mini strokes including several hundred children. While this can be debilitating for anyone at any age, it is especially hard on young people. Different Strokes was set up to provide help through peer support and assisting independent recovery. The District Governor's wife Debbie Burnett chose Different Strokes as her Charity for 2017/18 as she herself suffered a stroke shortly after the birth of their daughter Beth. Pictured here is the presentation to Austin Willett of a cheque for £4,000 for Different Strokes from the District 105D Partners Charity collection 2017/18.
District and International awards were presented to a number of Lions attending including the '1st Timers' recognising their first attendance at the 105D Convention. Special recognition was given to SAA Dave Ebsworth with the International Presidents Medal of Honour being awarded for his outstanding work for Lions Clubs International. All the awards pictures can be viewed and downloaded from the online gallery.
Introduction to 2017/18 & 2018/19 Convention Teams was followed by the traditional closing ceremony.

Convention day finished with a Banquet and Ball to make a perfect end to a very worthwhile and friendly event.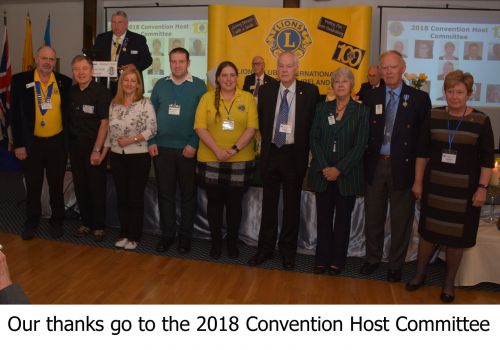 Sponsors
Club-Sites (Squarezone Ltd)
Pembroke House
8 St Christophers Place
Farnborough
Hampshire GU14 0NH

Tel 01252 517611
Website www.club-sites.co.uk

SumoSam Ltd
20 Hildens Drive
Tilehurst
Reading
RG31 5HU

Tel 0118 327 1060
Website www.sumosam.com