Message from the District Governor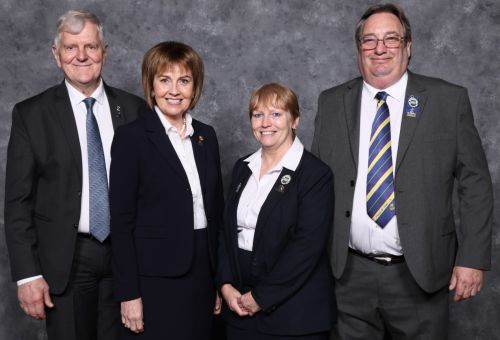 Hello Fellow Lions,
This Lions year for me began in Las Vegas witnessing the swearing-in ceremony of our new International President Gudrun Yngvadottir. A momentous occasion and a long overdue milestone to celebrate our organisations 1st female leader, and it ONLY took 101 years!
[photo: PID Dr. Jon Bjarni Thorsteinsson, International President Gudrun Yngvadottir, Lion Jean Lock with DG Ken Staniforth in Las Vegas]
Gudrun is a very down to earth and inspirational woman who, I believe will lead us to new horizons, indeed she has already started by recognising that the Leo's who work so closely with us, are unheard………until now. Leo's will have two representatives on the International Board.

Remember Council Chair Peter's daughters words at convention - "Cut the crap"? Well I intend to follow Peter's lead and with him and 1st Vice District Governor Jarvis united as YOUR DG Team, move forward to a new horizon.

'My way or no way' attitudes do not belong in today's Lions Clubs. Change 'We tried that once and it didn't work' to 'I wonder if this will work today with a little tweak'. We must be POSITIVE in our approach, even if things don't work out as planned, a lesson WILL have been learnt.

Cabinet. You know that secret old boys club……………….REALLY? Well, I am issuing every Club a challenge. I want to bring Cabinet to the Members. As a Club or Zone, can you find a venue to take about 50 for a cabinet meeting on a Sunday morning and can provide a 2 course lunch for about £15.00? If you can, let me know, because the add on to this is that the Club/Zone can advertise a Membership Drive for the afternoon so half a day becomes a whole day. Two birds, one stone.

Club Presidents and Officers, you have an obligation to encourage, promote and ensure that your club Members move on and grow to take on roles in the Club and even Cabinet positions. So I am inviting Members to attend cabinet meetings, see how your Cabinet officers work on your behalf and pass comment on how it can be improved. It is your Cabinet.

Finally, Your District Governor Team along with the Council of Governors, have a very busy and challenging year ahead. We ARE 'up for it'. With Clubs, Zones, Regions and Districts working together, in Weymouth next year, we can celebrate 54 years of service as 105D and welcome brand new horizons as 105SC (South Central) in 2019 and more important of all, have FUN!

Ken Staniforth
District Governor 105D
Read about the DG Partner Charity supported by Lion Jean Lock