There are now 2 competitions under the heading of Environmental Projects.
The Contact officer for both competitions is DO Judith Goodchild
Lions Environmental Poster Competition
This competition, was voted in at the 2012 Convention, and is based on a successful one run by Hayling Island Lions Club for some years. The idea is to stimulate young people's interest in the environment and to provide a competition which is stimulating and interesting to them. The spin-offs for Lions Clubs could be many including PR for your club, an increased awareness of Lions by schools (teachers and pupils), youth clubs, scouts, guides, cubs and brownies and their leaders, parents and the general public. It can help you introduce other ideas into your community and could lead to increased membership.
The chosen subject for 2017-2018 is

KEEP OUR BEACHES BEAUTIFUL
DO NOT MESS THEM UP!
THE EFFECT OF LITTER ON OUR BEACHES
This subject was been chosen in consultation with the incoming District Governor. The subject could be anything to do with litter found on the beaches or the results of litter on beaches. . The possibilities are endless.
Please read the Rules and entry form BEFORE you enter.
RULES:

The competition is open to anyone aged between 7 and 16 in 2 age groups age groups
1) 7-10 (key stage 2 years 3,4,5,& 6 in junior school
2) 11-16 (Key stage 3 & 4, years 7,8,9 & 10 in senior school)
There will be two classes:
1) A poster using computer aided design
2) A poster using paint, crayons or similar as the medium
The size to be A4 (297 x 210mm or 11.7 x 8.3ins) or A3 (420 x 297mm or 16.5 x 11.7ins
Posters must be entirely the work of the nominated child and should be original i.e they should not have previously been published or entered into other competitions.... They can contain words.
The closing date of the competition for this year is 14th January 2018
The Practical Guide
1. As soon as you receive this, print off the Application Form and rules for as many outlets as you wish within the resources of the club. These can be distributed, for example, ad-hoc, via a local newspaper, youth clubs, schools, scouts and guides. Also use the press release below.
2. You have from now to the 14th JANUARY 2018 so please take a look and get over to the schools and clubs to promote this. It would be better if teachers did not devote an entire lesson to this as the aim is to get individual ideas.
3. When you get a reply make out the form as below and give each entry a unique reference number which should be prefixed with your club name.
4. If there are sufficient entries there will be a regional competition with the winners going on to a District Competition. If not the entries will go automatically into the District Competition.
5. Please support this competition. If successful it will become an MD competition and hopefully an International one.
6. There are now four trophies:
The Roger Munday Cup for Computer Aided Designs for the older age group
The Christine Munday Cup for Computer Aided design for the younger group
The Ron Twining Cup for Traditional Posters for the older age group
The Ann Twining Cup for Traditional Posters for the younger group

The prize in each category will be £75
To download an entry form, Please Click Here
Below is a suggested press release to invite children to enter this competition
LIONS CLUBS INTERNATIONAL INVITES YOU TO MAKE A DIFFERENCE FOR THE ENVIRONMENT
The (name) Lions Club is inviting children from 7 to 16 to produce posters to promote caring for our beaches. This event is part of the "Protecting Our Environment" Campaign, which is one of the Lions Clubs International Service areas.
There is an urgent need for the global community to take action to protect the environment given the many issues facing our planet such as climate change, deforestation, and loss of plant and wildlife. Lions clubs from around the world have been committed to protecting the environment for several decades and we understand that every small effort makes a big difference." said (name, title such as club president or event chairperson).
Lions clubs are groups of men and women who identify needs within the community and work together to fulfil those needs. For more information or to get involved with the (name) Lions Club, please contact (name) at (phone number) or (e-mail address – add Web site address if appropriate).
Lions Clubs International is the world's largest service club organization with 1.4 million members in approximately 45,000 clubs in over 200 countries and geographical areas around the world. Since 1917, Lions clubs have aided the blind and visually impaired and made a strong commitment to sight preservation and community service throughout the world. For more information about Lions Clubs International, visit the Web site at www.lionsclubs.org.
---
2017 The theme was World Earth Day April 22nd and The winner of the Ann Twining cup for Traditional Posters was Patrick Shay sponsored by Sandown and Shanklin Lions Club
The winner of the Ron Twining cup for Traditional Posters was Tallula Maloney sponsored by Hayling Island Lions Club

2016 The winner of the Ann Twining cup for Traditional Posters was Emma Smith sponsored by Sandown and Shanklin Lions Club
2016 The winner of the Ron Twining Cup for Traditional Posters was Sadie Wetherick sponsored by Sandown and Shanklin Lions Club
2015 The winner of the Ann Twining Cup for Traditional Posters was Leah Shelton sponsored by Blackmore Vale Lions Club 2015 The winner of the Ron Twining Cup for Traditional Posters was Alice Mantle sponsored by Hayling Island Lions Club.

2015 The winner of the Ann Twining Cup for Traditional Posters was Leah Shelton sponsored by Blackmore Vale Lions Club 2015 The winner of the Ron Twining Cup for Traditional Posters was Alice Mantle sponsored by Hayling Island Lions Club.
---
Please can we have some entries in the CAD classes in 2018
---
2014 The winner of the Ann Twining Cup for Traditional Posters was Gabby Clothier sponsored by Blackmore Vale Lions Club
Blackmore Vale Lions Club and Milborne Port School have decided that the prize money should be spent on environmental projects within the school and that Gabby should help decide what these should be.

2014 The winner of the Ron Twining Cup for Traditional Posters was Ellen Fishwick sponsored by Sandown and Shanklin Lions Club There were no entries in the other categories. Please can we change this in 2015
2013 -The winner of the Ron Twining Cup for Traditional Posters was Callum Heathcote sponsored by Hayling Island Lions Club The remaining cups were not presented in 2013
Peter Allen Environmental Photo Competition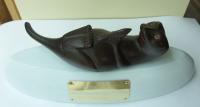 This competition is for the best photograph portraying the environmental work of Lions clubs in District 105D.
The Award was given in memory of Peter Allen, a member of Fleet Lions Club who had recently passed to higher service when Jim Storey was Environmental Projects Officer in 2005-6
Jim thought it was appropriate that the environmental photo competition should have a trophy as did Marion, his wife.
Fleet agreed to name it after Peter Allen, who despite his age, was always keen to get out with Lions when they did jobs at our local nature reserve.
This coming year I am organising the contest together with MDHQ and a poster and letter from me is in the April 2017 District Mailing and in the April/May 2017 LION. I am happy to have as many photos as clubs wish to submit. I will arrange for judging at the District level and if there are more than 5 entries The Peter Allen Trophy will be awarded. The competition is also open to LEOS.
Entries can be either in colour or black and white but must be 8" x 10" and must be prints, either glossy or matt finish. They should be taken in the member's local community and must therefore be taken within the MD. Photos of places outside of the MD will be disqualified. Entries should be sent to Lion Judith Goodchild, Community Relations Portfolio Holder at 88a, Franklin Avenue Tadley Hampshire RG6 4EU by Monday 8th January 2018.
As the name applies this is eventually an International Competition held each year but initially it is a District Competition. This year the International competition only asks for photos with a nature theme. However at MD and thus at DISTRICT LEVEL we are maintaining four categories. This will give photographers and clubs more chance of being a winner. The winners of these competitions will go forward to the MD Competition There will be four winners and the outright winner will be chosen from them. Historically, the take up of this competition has been very poor. Why? There are many Lions who take photos so why not enter the competition? You never know you could win! The categories for 2017-18 are:
1. Plants
2. Animals
3. Weather phenomenon
4. Other aspects of nature including landscape
In 2017 the trophy was awarded to Windsor Lions Club. Their photos won two sections in the MD Competition. The photographers were the late Lion Harry Purchase and Lion Julie Mallinson.
---
In 2016 The winner was Lion John Goodchild from Loddon Valley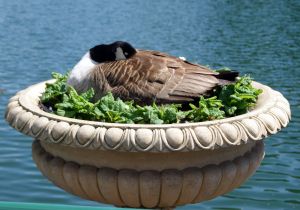 ---
In 2015 the winner was Steve Fulcher from Crofton Lions Club
---


---
The award was not presented in 2014 as no clubs entered but there was one direct entrant to the MD Competition. This was in the landscape section and was taken by Lion Judith Goodchild. It was one of two runners up in the competition.

---

The winner for 2013 was MIKE COLLEN from FLEET LIONS CLUB
The winner in 2012 was Clare Dowling from the Bracknell Forest Club
The winning picture showed a starling with her baby
The Award was not presented in 2011
2010 winner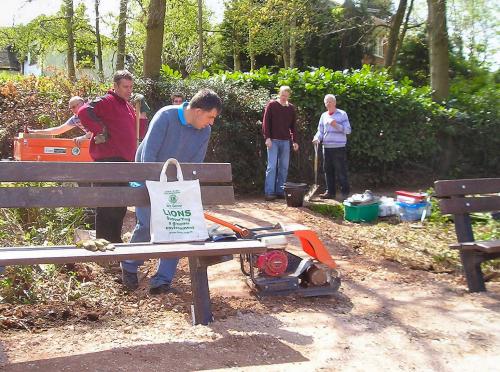 Fleet Lions at Fleet Pond, our local nature reserve
"We created a new viewing area at our local nature reserve for young, old
and disabled alike - to inspire them to protect our local environment."
Jim Storey of Fleet Lions
The Helen Deakin Make the World a Better Place Award
UPDATE JULY 2014
At the Cabinet meeting on July 19th it was agreed that this competition would be cancelled due to lack of support from clubs. It was also felt that the aims could be covered by The Leo Plumley Award and the Peter Allen Photographic Competition.
In 2009 The District Cabinet gave permission for an Environment Competition to complement the existing Photographic Contest. This competition runs each Lions year until 31st January, and the closing date for completed entries is 20th February 2014
This Environmental Project for Lions Clubs in District 105D was introduced to commemorate the life of Miss Helen Deakin. Helen lived in Stubbington, Hampshire. She trained as a Nurse and then as a Teacher before offering herself to the Church as a Missionary. She was rejected. So she became a "self appointed" missionary in our village where she dedicated her life and possessions to "Making the World a Better Place". That included getting up at 4 or 5 in the morning, every morning, to ensure that the village was clean and tidy and an environment to be proud of. In 2002 she was created a "Citizen of Honour".
The Club that produces, or sponsors, the winning entry will receive their prize at the District Convention. This competition gives us the opportunity to bring Lions Clubs and our Environmental Activities to the attention of the general public. It also gives us an opportunity to involve outside organisations and individuals, e.g. Scouts, Guides, Schools, Womens Guilds, Youth Groups, Churches, etc.

It is designed to highlight environmental and sustainability activities in your locality. The prize will be £100.00 to be used for an approved environmental project or to buy an Acre of Rain Forest via the World Land Trust. Certificates of Appreciation will also be awarded to the runners up.
Entries can range from individual ways you are helping to conserve the planet by living an environmentally friendly life, such as transforming an allotment, cycling to work, recycling or composting, or putting unwanted items to innovative new uses to more organised group projects involved in such things as recycling, conservation, energy and water use, local food production, community organic food growing projects, etc. Whatever you're doing to help the Planet, all you have to do to enter the MAKE THE WORLD A BETTER PLACE Competition is tell us about it!!
It's that easy. Just follow these steps
1. How are you making the World a better place ?
2. Give one good example for each category in that well known environmental slogan "Reduce, Reuse, Recycle" (This will be used as a "Tie Breaker" if the need arises to choose between two or more equally good entries for Part 1.)
3. Send details of your project (with photos if possible, and appropriate) together with your contact details, and explain what you would spend the prize money on, to: Lion Judith Goodchild, Community Relations Portfolio Holder,88a, Franklin Avenue, Tadley Hampshire RG26 4EU

--------------------------------------------------------------------------------
This award received no entrants for 2014
--------------------------------------------------------------------------------
The winner for 2013 is FLEET LIONS CLUB
for their work with The Fleet Pond Preservation Society on their Clearwater Campaign
--------------------------------------------------------------------------------
The winner in 2012 were Reading Lions Club
--------------------------------------------------------------------------------
The 3 R's Environmental Competition
This competition has now been suspended by the District Cabinet due to lack of support
--------------------------------------------------------------------------------