In Memoriam

30th July 2019
Lion Stuart Beese
Lions Club of Melksham
It is with sadness that I report that Lion Stuart Beese died on Tuesday 30th July. Stuart was a charter member of Melksham Lions club and also the first president in 1975.
Jim Whyborn
President
---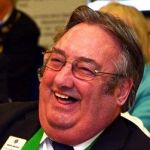 19th July 2019
Lion Ken Staniforth PDG MJF
Lions Club of Salisbury and District
It is with great sadness that we have to inform you that Immediate Past District Governor (105D) Ken Staniforth MJF passed away this afternoon, in Salisbury District Hospital.

As most of you will be aware, Ken had been fighting Myeloma Cancer of The Blood for the last couple of years and has given it a fantastic fight as only he could. Unfortunately in the last few days he caught Pneumonia and his immune system was too weak to fight this final hurdle.

Luckily we visited him in Hospital yesterday evening and presented him with his Past District Governor medal and chain; his pride in receiving this was obvious and he had a huge smile on his face.

He really was an amazing man, and his love and enthusiasm for Lions was really contagious.

A least he is no longer suffering and is now at peace. He will be long remembered as a Gentleman, a Lion, a friend and the final District Governor of District 105D.

Our thoughts and condolences are with Ken's partner Lion Jean Lock and the rest of his family at this most difficult time.

District Governor 105SC Lion Jarvis Macdonald and Past Council Chairman MD105 Lion Peter Burnett

The Funeral Service will be on Friday 16th August 2019 at 2pm at the Gray Manor Hotel, Park House Cross, Cholderton, Wiltshire SP4 0EG. If nice weather, the Service may be held outdoors in the Hotel grounds.

Dress: Whatever you feel comfortable wearing.

The committal will be by private cremation.

Family Flowers only please.

Donations in memory of Ken to Salisbury District Hospital, Pembroke Ward/Unit and Nunton Unit can be made on the day of the Funeral or via the Funeral Directors: James Benedict, The Centre, Amesbury, Wiltshire SP4 7DR

Following the Funeral Service, there will be a wake at The George Hotel, 19 High Street, Amesbury, Wiltshire SP4 7ET.

For the purpose of numbers, if you plan to attend the wake, please use the Contact Us form stating name and number of people. Those who have already responded via Facebook need not respond again.
Jarvis Macdonald
DG
---
18th July 2019
Lion Bob Moore PDG
Lions Club of Bournemouth
It is with deep regret we advise of the death of Past District Governor, Lion Bob Moore, who passed away peacefully on 18th July 2019 aged 97years. Lion Bob has been a strong and dedicated member of the Lions Club of Bournemouth, providing his experience as the Club mentor. We extend our condolences to his wife Lion Peggy Moore and his family.

The funeral will take place on the 5th August 2019 at 12:30pm, at Bournemouth Crematorium, North Cemetery,
Strouden Avenue, Bournemouth, BH8 9HX.
Afterwards returning to the Sunrise Residential Home, Poole Road, Westbourne BH4 9DR.

Family request no flowers or black clothing please.

Pam White
Secretary
---
14th July 2019
Lion Bruce Barnes
Lions Club of Loddon Valley
Loddon Valley Lions Club regret to report the passing of Lion Bruce Barnes on the 14th July 2019.

The funeral was held on the 2nd August.

Our condolences to Bruce's wife Evelyn.
Lesley Petrie
Secretary
---
28th June 2019
Lion Guy Elliott MJF
Lions Club of Loddon Valley
It is with great sadness that I have to report the passing into higher service of Lion Guy Elliott. Guy died peacefully surrounded by his family on the morning of 28 June 2019.

Lion Guy was a Charter Member of Loddon Valley Lions Club and actively served the local community for over 44 years. He was our Club President in 1987/88.

It was on Guy's farm where our Country Working Fair ploughing competitions took place and in Guy's barn that many of the Club's Social Barn Dances were held. In the earlier days of the Loddon Valley Lions Treacle Fair it would be Guy on his tractor leading the parade through the village to the delight of the residents.

Guy was a very popular member of the club (especially with the ladies). Respected and loved by all, he will be greatly missed for his dry sense of humour, camaraderie and his willingness to help all around.

He was a true Lion to the end.

Guy's funeral will be held at 3pm on 12th July at Ramsdell Parish Church, Monk Sherborne Road, Ramsdell, Tadley RG26 5RA.
Address for cards or messages
Condolences can be sent c/o myself, Lion Bob Prevost, 19 Tadley Hill, Tadley, RG26 3PN and I will pass them on to the family.
Bob Prevost
Secretary
---
5th March 2019
Lion David Moye MJF
Lions Club of IOW Ryde
Fellow Lions

It is with great sadness that I report the passing to Higher Service of Lion David Moye MJF, a member of the Lions club of Ryde since 1976.

No specific dress code requested for the funeral on the Ist April 12:45pm at the Isle of Wight Crematorium, Whippingham, East Cowes PO32 6NJ

Family flowers only please

Donations to the Lions club of Ryde
Pauline McCreanor
President
---