Special Olympics
LIONS CLUBS – AN INTERNATIONAL AND NATIONAL PARTNER OF SPECIAL OLYMPICS

10th National Summer Games, Sheffield 7th - 12th August 2017
In our centennial year, our District nominated charity selected by the District Governor is in support of Special Olympics GB. Why? Please read on and please, please, please take time to watch the short videos.

Special Olympics GB is the 3rd member of the Olympic Family and the largest provider in the country of regular sports training and competition for young people and adults with a learning disability.
Special Olympics GB is the largest registered charity providing year-round sports training and competition opportunities for people with intellectual (learning) disabilities. Almost 1.2 million people in the UK (2% of the population) have an intellectual disability.
years Lions Clubs International in the British Isles & Ireland, has proudly supported Special Olympics GB by giving donations, fundraising for athletes selected for international competitions and providing volunteers to run especially the Opening Eyes and Families programmes.
In 2001, our Lions Clubs International Foundation awarded Special Olympics the first grant in a multi-year, multi-million dollar commitment. Since then, the foundation has given more than $1 million each year. Together, our two organisations work to bring proper eye care to Special Olympics athletes around the globe through the Healthy Athletes Opening Eyes program. The commitment is more than just financial. Lions Clubs have supported the Opening Eyes program with thousands of volunteers from more than 80 countries. Lions play a crucial volunteer role, assisting with registration, colour vision testing, visual acuity tests and distribution of glasses and protective sports goggles. In some cases, members also conduct some of the actual vision tests.
In 2013, Lions Clubs in this country were a key partner in successfully delivering the Families Programme at the Special Olympics GB (SOGB) National Games in Bath.
In 2014, in Great Britain, our two organisations agreed a Partnership Charter which focuses on the partnership work in the following key areas: Volunteer workforce development; Supporting SOGB clubs at local level; Fundraising and an annual National Appeal to support SOGB regional and national Games.
In 2017 - Lions Clubs will deliver the Special Olympics GB Families Programme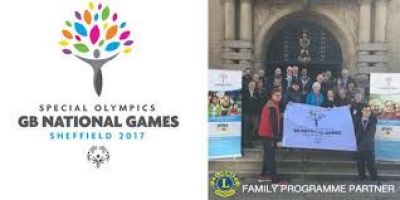 The 10th National Special Olympics GB Summer Games returns to Sheffield in August 2017, with volunteer members of Lions Clubs from across the country preparing to support the Families Programme.
Details of what the anticipated 5,000 family members of Special Olympics GB's near 3,000 athletes can expect at include a city centre welcome and families hub where Lions Clubs members will host a range of events and activities, and signpost 'must see' attractions in Sheffield and the surrounding area.
The National Special Olympics GB Summer Games will be the largest disability sports event in 2017 – coinciding with the 100th anniversary of the founding of Lions Clubs International. The Games are a celebration of high quality sports competition where entry to all sports venues will be free to the public. Competitors dedicate months of training to compete in their chosen national level sports events – and appreciate the support of their families who join in the excitement and celebrations. Lions Clubs members are on hand help to organise social and other activities, adding to everyone's memories of this amazing experience – and having fun themselves whilst doing so.
The Games take place between Monday 7th and Friday 11th August 2017 with the opening ceremony taking place at Sheffield United's Bramall Lane stadium.
Games Facts
2,600 athletes with intellectual disabilities of all ages and abilities will come together from across the country to compete in 19 sports.
Athletes will be supported over 4 days of competition by 800 coaches, 750 volunteers, 150 officials and over 5,000 family and friends.
We want every child and adult with an intellectual disability in GB who wants to have the opportunity to take part in quality sports training and competition, to improve their lives and in turn, the lives of everyone they touch.
With your support we can make this a reality for people with intellectual disabilities to experience fun, fitness and friendship through sport.

SEE WHAT IT MEANS TO THE ATHLETES:




SEE WHAT IT'S LIKE BEING A VOLUNTEER:




WANT TO BE A VOLUNTEER IN SHEFFIELD?:




SEE HOW THE BATH GAMES OPENED WITH SUSAN BOYLE & CO:




THIS IS LIONS CLUBS IN ACTION: WHERE THERE IS A NEED, THERE IS A LION AND "WE SERVE"

If you can't come along to Sheffield, please help our Lions Clubs support the Games and the Athletes by making a donation, no matter how small, to our District Treasurer, payable to LCI 105D and marked 'Special Olympics'.


LINDA PICTON, 1 Silverdale, Fleet, Hampshire GU52 7TT