Europa Forum
The 62nd Europa Forum will be held in Sofia on 27th to 29th October 2016. It will be hosted by our colleagues in District 130, Bulgaria at the National Palace of Culture – Congress Centre (NDK) situated in Downtown Sofia and will follow the theme "United to Serve".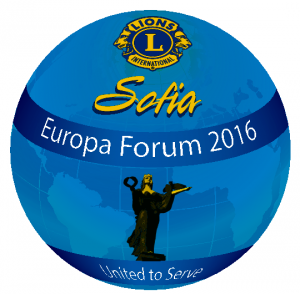 Registration is only available on-line from a secure website via the official Forum Website. Registration fees prior to 1st October 2016 are for Lion members €200.00, Non-Lions members €120.00 and Leos €100.00. Lion members registration fee includes transport from Airport to Hotel; participation in all sessions, seminars and workshops; all necessary materials, brochures and documents; two lunches 28/10 & 29/10; Welcome – Get together 27/10; and Host Night 28/10. Non-Lions members and the Leos registration fees includes the facilities listed for Lion members with the exception that two lunches 28/10 & 29/10 and Host Night 28/10 are NOT included. Whether either of these two exceptions can be added at extra cost is not indicated.

The Gala Dinner on 29/10 is optional at an additional cost of €60 per person.

There are a range of hotels offered by Astral Holidays the officially appointed travel agents via the official forum website. These comprise of packages for varying lengths of stay but once booked require a deposit and full payment generally prior to 1st October and a non-cancellation policy applies. From my investigations it appears that better prices with flexible conditions and a greater variety of hotels close to the convention centre are on offer by using a specialised search engine such as Trivago.

At the moment I am waiting to hear if MD are recommending a Hotel for the MD105 delegation and will post any information when and if received.

EasyJet operate a single flight daily service from Gatwick and Stanstead to and from Sofia. Gatwick is probably the preferred airport for members of our District and ticket prices for weekday travel are currently showing at £34.49 per person each way plus the usual additions for baggage, etc. Return travel on the weekend is considerably more expensive. All fights leave Gatwick at 6 am with the return from Sofia at 12:10 pm local time.

There is a range of excursions on offer that are only book-able on arrival from your Hotel Reception quoting "Lions Europa Forum, Sofia 2016". I suggest that this will probably only apply to those Hotels listed by the officially appointed travel agents, Astral Holidays. No dates or costs have yet been provided.

The programme has now been published and can be downloaded from the official Forum website.

Clicking on the link below will take you to the official Forum website where more information can be found.
If members attending can let me know I will ensure that you are kept advised directly of any changes or developments as they arise. Equally, if you require any further help or assistance please do not hesitate to contact me.

Lion PDG Barrie Richardson International Relations Portfolio Co-ordinator intchair@lions105d.org.uk

---
The 61st Europa Forum was held in Augsburg, Germany on 9th to 11th October 2015 hosted by our colleagues in MD111 Germany followed the theme "European Lions – Sympathy and Friendship".
---
The 60th Europa Forum was held in Birmingham on 30th October to 2nd November 2014 hosted by our Multiple District (British Isles & Ireland) followed the theme "Service from the Heart".
---
The 59th Europa Forum took place in Istanbul, Turkey on 31st October to 2nd November 2013 hosted by our colleagues in MD118 Turkey followed the theme "Bridging the Cultures through Services". This coincided with the celebration of 50 years of Lionism in Turkey.
---
The 58th Europa Forum was held in Brussels, Belgium on the 6th to 8th September 2012 hosted by our colleagues in MD112 Belgium and followed the theme "Building Solidarity for Tomorrow". This coincided with the celebration of 60 years of Lionism in Belgium.

---
The 57th Europa Forum took place in Maastricht, Holland on 13th to 15th October 2011 hosted by our colleagues in MD110 Holland and followed the theme "Building Bridges".