TREES FOR COMMUNITIES
A PROJECT FOR 105D
" plant trees, protect the environment and show loving concern for all who inhabit our planet."
Past International President, Wing-Kun Tam
---
LATEST NEWS - We have reached our target! A very sincere thank you to the clubs which contributed and especially to Woolmer Forest who both started and completed the project To see details of the work being carried out Please Click Here.
HISTORY OF THE PROJECT
There was also a stand at the District Convention in Bournemouth and many Lions showed interest. If you were one of them please take this further with your club.
We also took the stand to the MD Convention in Birmingham and it was again seen by many Lions including Past International President Wing-Kun Tam. He was delighted to hear of our project and congratulated us on our efforts.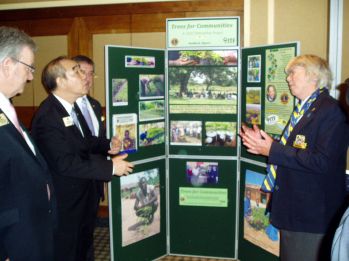 On the positive side work has begun and most of the seedlings have been planted. The project is no longer an aspiration but as the images on the stand in Bournemouth and Birmingham showed Ė there are real families, real communities in Lira, Northern Uganda Ėabout to benefit from the 36,000 trees raised in their local community nurseries! See the April ITF Bulletin at http://internationaltreefoundation.org/itf-publications and scroll down to the April Newsletter.
When you read FEDís progress report at http://internationaltreefoundation.org/itf-projects/trees-for-communities/
you will appreciate how close our District is to the spirit and intention of Wing-Kun Tamís call in 2011 to plant a million trees!
We know that you would not want to miss an opportunity to see the project through to completion and hopefully lay the foundations of a working relationship between our District and the families in Barlonyo village, Lira. This is what Wing-Kun Tam had in mind.
GOOD NEWS!
A Memorandum of Understanding has been signed by The International tree Foundation and our District Governor Mike Hendy to set up a project in Uganda. £1500 was sent to the ITF in August so that the project could begin in October. The area selected by ITF for our project is Ogur sub county, Erute North County, Lira District in Northern Uganda. The project will support the establishment of a Community Tree Nursery that will raise 28,00 assorted woodlot seedlings and 8,000 assorted fruit trees to be shared and planted by the participating house holds.
However about another £800 is needed to complete the project by the end of September 2015 so, if you have not supported us, please considesending £50 to the District Treasurer. If you have already made a contribution a second would also be welcomed.
The project adopted as a District 105D Project in January 2014 by the District Cabinet. It is a scheme, run in conjunction with The International Tree Foundation to raise, plant and manage trees in sub Saharan Africa.
WHY?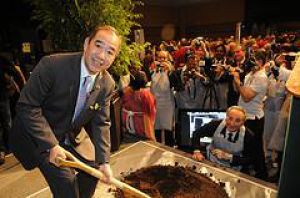 President Wing-KunTam planting the first tree at the Seattle Convention

In Seattle in 2011 the then new International President Wing-Kun Tam launched his campaign to plant one million trees during his Presidential year. I am delighted to say that this target was achieved quickly and by the end of President Tam's year over fifteen million trees had been planted!
Lions in 105D were exhorted by DG Ron Twining to support this programme and many did. However Woolmer Forest Lions Club felt that there were plenty of trees in leafy southern England, especially in Hampshire, and decided to do something for the wider world. Thus the Woolmer Forest Tree planting scheme was born.
HOW CAN YOU HELP?
If every club donated £50 to this project the initial pilot project target of £2500 would be reached. Please send your cheques to the District Treasurer Lion Linda Picton made payable to Lions Clubs International District 105D and endorsed Trees for Communities on the back so that we can go from:
This to this and, eventually this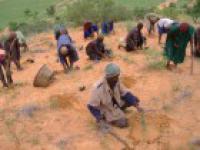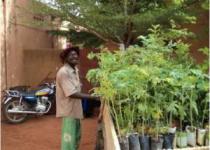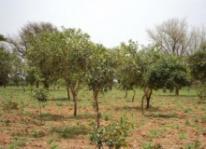 PROGRESS
Up to July 1st 2015 £1883 has been sent to Lion Linda. Our grateful thanks go to the following clubs for their donations:
Alton, Basingstoke, Bournemouth, Bradford on Avon, Burnham, Christchurch, Crofton, GMS, Henley on Thames, Hook and Odiham, Jersey, Loddon Valley, Lymington, Meon Valley, Newbury, Petersfield, Ringwood and Fordingbridge, Ryde, Salisbury, Sandown and Shanklin, Solent, Swanwick, Wareham and of course Woolmer Forest who started the ball rolling.
This means that we are just over £600 short of our target of £2500 which we need to accomplish before the end of September. If you have not already given please do consider making a donation. Just £50 per club will see the target reached.
A steering Committee has been set up to run the Project and they meet as necessary and with representatives of The International Tree Foundation to report on progress and plan the future.
The steering committee consists of Lions Brian Woods (Woolmer Forest), Doreen Parfect (Woolmer Forest), Vic Machin (Woolmer Forest), Tony Struthers (Petersfield), Mike Baker (Alton and current Zone Chairman) with Judith Goodchild (Hook and Odiham Community Relations Portfolio Holder) as Chairman plus representatives of ITF.
Contacts Judith Goodchild Email welfare@lions106d.org.uk or Brian Woods E mail ballymave@aol.com
23rd February 2014 From District Governor David Merchant:
"Dear Lion President, As you will have read from the attached report by lion Brian Woods of Woolmer Forest Lions Club, the work of the International Tree Foundation was the subject of a presentation to the District Cabinet in January this year. On completion of the presentation and in response to one of the comments which followed it was proposed this Foundation would be classified as a District project. This proposal was voted upon by Cabinet and carried and as District Governor I welcome this additional project to those supported in our District. The planting of trees around the world was an integral part of the programme of Past International President Tam and our current International President, Barry Palmer, has pledged to continue the work started some two and a half years ago. Trees, and consequently the environment, are an important element of the work of our organisation and I would ask Clubs to give serious consideration to supporting this appeal. As always please send your donations to our District Treasurer, Lion Linda Picton, and endorse them International Tree Foundation. Woolmer Forest Lions have pledged to keep Clubs fully informed as to the progress of the work carried out by the Foundation on our part and I know Linda will provide updates on donations received.
Yours in lionism, David"
Trees for Communities A New District Project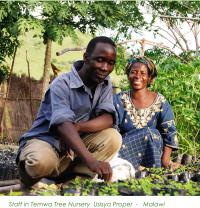 At the January Cabinet, Woolmer Forest Lions Club (WF) gave a presentation demonstrating how they had decided to satisfy President Wing-Kun Tam's challenge to "plant trees, protect the environment and show loving concern for all who inhabit our planet." WF had determined that not only is the tree cover here in the South of England substantial, but it is managed, protected and enhanced by a large number of NGOs, and Local and Central government Departments and Agencies. WF therefore set about developing a strategy that would best reflect Wing-Kun Tam's call for action. WF has explored an option to team up with International Tree Foundation (ITF). ITF works with communities in Africa, carrying out sustainable community forestry projects that help to increase villager's income, food security and soil and water quality through raising and growing trees. These projects also protect and regenerate trees and forests, providing protection for the environment and atmosphere as well as habitats for rich biodiversity. WF concluded that planting trees where they are most needed would provide a better return in Africa than in England. A specific pilot project would be identified, Lions would "own" the project and receive on-going progress reports and feed back.
To date WF have initiated the project, established a steering group, chaired by Lion Judith Goodchild (MD1O5d Environmental Project Officer) and achieved initial financial support of £750 from other clubs in their Zone. However WF is a small club and needs to raise sufficient funds to initiate a pilot project with ITF of £2500 and this is beyond their capability to achieve in a meaningful time-scale. Consequently they are making an appeal for support from other Lions clubs in the District. The pilot project target can quickly be met if each club in the District made a commitment of £50.
At the January Cabinet meeting WF's proposals met with overwhelming support. It was agreed to adopt the scheme as a District Project. District Treasurer, Linda Picton, agreed that Club Treasurers could send fund to the District earmarking the contributions for Trees for Communities Pilot Project. These funds would then be ring fenced until there are sufficient funds for WF to launch the pilot in conjunction with ITF.
This letter requests clubs in District 105d to support the project by making a donation through the District Treasurer.
Clubs will be kept informed of fund raising progress and when the pilot is launched, Lions are assured of regular feedback.
Meanwhile what steps will the Steering Group take next? Initially significantly raising awareness of the project is crucial. To that end WF & ITF will be providing a manned display table at Convention with more details about how the project will work using ITF's know-how and experience. The Steering Group will be developing a project plan to ensure that the pilot project is achieved within a meaningful timescale.
Further information can be obtained through direct contact with the Project Leader, Brian Woods on 01428 714508 / ballymave@aol.com. The ITF website http://internationaltreefoundation.org provides extensive examples of their projects and onsite partners working with communities in Central Africa.

Brian Woods
The Lions Club of Woolmer Forest