Young Ambassador 2018
TANGUY BILLET-MASTERS
Supported by the Lions Club of Jersey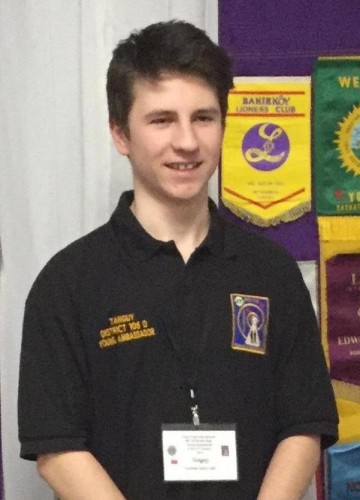 I am 16 years old and in my GSCE year at Victoria College, Jersey. Iím hoping to study English, French and History at A-level, with the ambition to become a lawyer.
I enjoy music; playing the clarinet to Grade 5 and Iím a member of the Jersey Youth Wind Band. I have got a keen interest in verse-speaking Ė competing in the Jersey Eisteddfod annually, also gaining a grade 7 in Speech and Drama exams.
Iím fluent in French and play table tennis and golf regularly. I also participate in the Duke of Edinburgh Award scheme.
Love Hearts Appeal is a charity that Iím very passionate about; itís an organisation linked to Great Ormond Street Hospital, researching and delivering care to the survivors of transplant operations and their families. I organise an annual fundraiser, by finding a venue, sourcing prizes and advertising in the press and local radio.
I am delighted to be representing The Lions Club of Jersey

Tanguy represented District 105D at the Multiple District Young Ambassador Finals at Dudley over the weekend of 23rd to 25th February 2018. Meeting for the first time on Friday evening the 11 Young Ambassadors immediately formed a bond which could last a lifetime. After being introduced to the assembled family members and District Officers the draw was made for the order of their interviews on Saturday. Tanguy was drawn for the first interview time and so didnít have the worry of waiting all day. After the draw, we went into the dining room for the evening meal and social which included a Tortoise Race. This generated a great deal of shouting and support. We also had a SLOW Tortoise Race for some of our OLDER Lions. The winner is the last tortoise to cross the line, but if your tortoise actually stopped it would be disqualified. A calendar instead of a stopwatch was needed for this race.
On Saturday the Judging Panel held their interviews throughout the day, and the evening ended with a Gala Dinner and a period of entertainment provided by the Young Ambassadors.
On Sunday morning over 150 guests gathered for the results ceremony. This began with the Young Ambassadors making their 3-minute presentation to the attentive audience. This was a very emotional time and one or two hankies appeared. The work being carried out by these young people in their own communities and beyond is astounding. It is difficult to understand how they manage to carry out all the things they do and still find time for their education and a social life. Finally, the moment that we, and they, had all been waiting for. The Chair of the Judges gave her summing up and praised all the young people and thanked them for all the service being carried out.
Amongst tumultuous applause, Jemima Browning sponsored by the Lions Club of Selby in District 105C was announced as the one going forward to represent MD105 at the Europa Forum to be held in Macedonia later this year.
Although Tanguy did not progress any further in the competition he did acquit himself very well as your Ambassador and we wish him every success in his future endeavours. If you would like to hear his presentation, come along to Convention in Southsea, he is outstanding.
Yorky Tuke
Young Ambassador Officer 105D
Young Ambassador 2017
Rosie Nicholls
Supported by the Lions Club of Jersey
Rosie will attend the MD 105 Finals in Dudley over the weekend 24th to 26th February 2017. We send her with our best wishes and support and hope that she can progress further in this fantastic competition. Rosie thanked the Lions Club of Jersey and the District for giving her this exciting opportunity. We wish her every success.
Rosie is pictured here proudly holding her trophy with District Governor David Taylor.




Rosie is a Year 9 student studying a range of GCSEs. Her musical talents include piano & guitar but her strength is singing and she is also a keen athlete.
Despite all these interests she is here today because of her brave work in a sensitive area of Community Service. Through connection with the NSPCC she is involved with MIND Jersey and CAMHS, bridging the gap to young people. Her challenge to the Education Department has led to improved school PSHE lessons and the creation of Family SMILES for children with a parent suffering mental conditions. The group are also setting up a therapeutic service for children who have suffered sexual abuse.
She somehow manages to find time to work in the British Red Cross shop on Saturdays! Rosie is visibly making a difference and in areas from which others would shy away. We are delighted to have Rosie represent






Pictured here left to right are Judges Martin Walsh, Peter Viney and Kirstine Impey along with our Finalists Isabelle Millen, Oscar Poules and Rosie Nicholls.
Isabelle was sponsored by the Lions Club of Eastleigh.
Oscar was sponsored by the Lions Club of Ringwood and Fordingbridge.
Rosie was sponsored by the Lions Club of Jersey.
All three candidates have completed the required service in the pat 12 months to qualify for a Gold Young Leaders in Service Certificate.
---
Related documents and forms
The District Finals this year were held on Saturday 7th and Sunday 8th January 2016 at the Hinton Firs Hotel, Bournemouth. For more information please contact the District 105D Young Ambassador Officer depyouth1@lions105d.org.uk
The Lions Young Ambassador scheme acknowledges the work of young people working as volunteers and gives them the recognition they deserve... boosting their self esteem, their confidence in themselves and highlighting the charities and volunteer groups with which they are involved. The aim of the scheme, which operates throughout Europe, is to recognise, encourage and support young people who are actively involved in the welfare of the community, supporting the best of our Lions' ideals. In previous years, candidates have been involved in helping young and older people, disabled, able bodied and disadvantaged and have organised projects in conservation, crime prevention, promoting healthier lifestyles, hospital radio and other initiatives
Our Young Ambassador for this our Centennial Year is Rosie Nicholls who is sponsored by the Lions Club of Jersey.