Young Ambassador 2019
Alysha Pires
Supported by the Lions Club of Jersey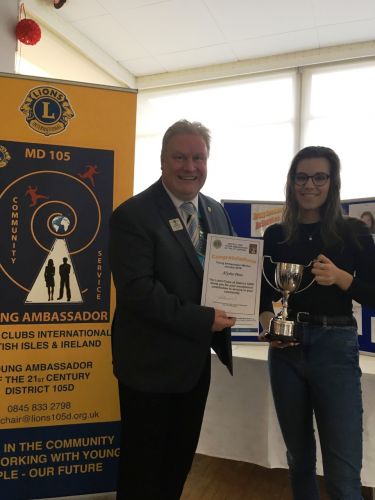 I am studying 11 GCSEs and hoping to study medicine.
I volunteer for Pathways whose aims are to equip, encourage and empower young people/
This has involved:
- Helping to run a bingo event and stall at an old peoples home;
- Competing in an "It's a Knockout" Challenge for Jersey SCUBU. (Special Care Baby Unit Appeal)
- Entering multiple Swimarathons;
- Volunteering at/ organising holiday clubs;
- Working one-on-one with a young boy with learning difficulties;
- Volunteering at Pathfinders: a group that teaches children Christian values; &
- Attending weekly "On Track" meetings where older children work towards the John Muir award to conserve wild places.
I'm passionate about protecting our environment and I'm competing for the Freedom Prize Award, which encourages young people to champion worthwhile causes that better society. I've chosen SurfRider that aims to reduce the impact of plastic waste.
I'm also interested in drama, music, guiding and music.
I am delighted to be representing The Lions Club of Jersey and District 105D.

Yorky Tuke
Young Ambassador Officer 105D
---
Related documents and forms