News
October 2009
Lion Hilary Lister "Woman of Achievement" Award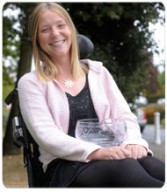 A quadriplegic yachtswoman who this year became the first disabled woman to sail solo around Great Britain has been named the Woman of Achievement 2009 by a national charity.
37 year old Lion Hilary Lister, from Kent, won the accolade at a gala award ceremony organised by national charity Vitalise, which provides essential respite breaks and other services for disabled people and carers. Vitalise said it chose Hilary for the award in recognition of her inspirational work pioneering disabled sailing and her record breaking yachting achievements.
In 2005 Hilary became the first ever quadriplegic person to sail solo across the English Channel. Then in 2007, became the first female quadriplegic to circumnavigate the Isle of Wight. But her greatest achievement to date was on the 31st of August this year, when she became the first disabled woman to sail solo around Great Britain.
Lion Hilary said "I'm completely overwhelmed to receive this award. There are so many talented women here today that to be singled out is really humbling. This award is special to me because it's from Vitalise. They are all about empowering disabled people. I've spent my whole career saying we need to take the 'dis' out of disability. Sailing has provided me with fresh hope and a real sense of freedom that I never thought I would feel again. I hope my voyage will generate awareness of disabled sailing and inspire fellow sufferers to fulfill their own ambitions. "
Vitalise's 26th annual Women of the Year Awards event was presented by Arti Halai, formerly of ITV's Central News and took place at the Hilton Birmingham Metropole Hotel. Proceeds from the event were donated to Vitalise, which is set to make more than £20,000. Over the past 26 years, the awards have raised about £500,000 for Vitalise.
Sophie Cox, Vitalise's head of events, said "Congratulations to Hilary for her incredible achievements. At Vitalise we want to enrich the lives of disabled people by helping them achieve their personal goals, and Hilary is a fantastic example of that spirit. I'd also like to thank the thousands of women who have supported this event over the years. Their generosity has helped us to continue providing life-changing opportunities for thousands of disabled people like Hilary each year. This event raises thousands of pounds of important funds annually for Vitalise and my organisation is very pleased to be associated with it and the role of raising awareness of the outstanding achievements of women like Hilary. "
Vitalise provides short breaks for disabled people and carers, with 24-hour nursing care on-call and personal support, at four accessible Centres in Essex, Nottingham, Southampton and Southport. A fifth centre in Cornwall provides accessible activity breaks for groups. For more information visit www.vitalise.org.uk
---
Over 950 clubs throughout the UK and Ireland were asked to coordinate the largest blindfolded walk on record, with club members, civic leaders and local dignitaries all setting off on a 300 metre walk at the same time. Here are a few reports from around our district: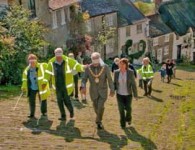 Lions Club of Gillingham, Mere & Shaftesbury
The Lions Club of Gillingham, Mere & Shaftesbury joined nearly 100 other Lions Clubs throughout the country in promoting World Sight Day on Thursday 8th October by taking their local mayor for a blindfolded walk up the world-famous Gold Hill located in north Dorset and recognised by many worldwide as the "Hovis Hill".
The Mayor, Lester Dibben, was joined by other members of the community, including mothers who led their toddlers blindfolded in the walk. At the top of the hill, the group was met by two visually impaired women who rely on a guide dog and the white stick - first promoted by Lions over 75 years ago. The women took the opportunity to brief the mayor on the problems they both face walking around the local area.
Lion President Debora Clarke said "The event went so well; it was amazing how we lost our bearings through the lack of vision. Visitors to our town broke out in applause as we reached the top". The Club has marked the event by donating £100 to Sightsavers in support of the work Lions Clubs International undertakes in tackling preventable blindness throughout the world.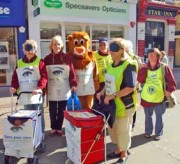 Isle of Wight Lions Clubs
Isle of Wight Lions Clubs joined Lions clubs around the world to promote World Sight Day. At 12 noon today the five Isle of Wight Lions Clubs joined 46,000 other clubs in 205 countries in a simultaneous effort to collect spectacle cases and glasses from opticians and other outlets and promote awareness to the general public of the many millions of people suffering from eye disorders.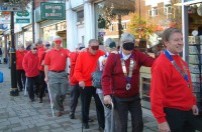 Lions Club of Fleet
District Governor Judith Goodchild and 11 Lions from 3 different clubs: Fleet, Hart and Hook & Odiham completed the 300 metre Blindfold Walk at noon on Thursday, 8th October.
The completion of the walk was witnessed and confirmed by two non Lions.
The local press were in attendance to take several photographs of the Team before and during the walk.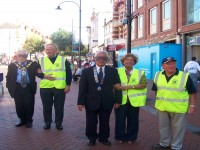 Lions Club of Reading
Reading Lions Club took the Mayor of Reading, Councillor Fred Pugh, for what
he described as an experience he had never encountered previously, along a
busy shopping street, together with a number of local blind persons and
members of the Club.
---
All times and dates are local
Archives
News 2009