News
December 2013

Lions community activities around the District

Lions Clubs throughout the south of England have been busy in the run up to Christmas 2013. Here is a short summary with pictures and a video to give a flavour of what Lions have been doing in their communities.
Weymouth and Portland Lions Club Christmas Day Harbour Swim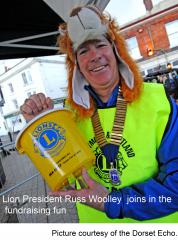 A record number of swimmers made a Christmas Day splash for charity in the Weymouth & Portland Lions annual Christmas Day Harbour Swim. The weather stayed kind as a total of 249 people took the plunge in the annual cross-harbour swim The popular event organised by the Weymouth and Portland Lions Club began 65 years ago as a bet between two local publicans and has been run by the Lions since 1978. The event has grown to such an extent that each swim has to be limited to 50 and this year saw five separate swims.
The swimmers raised £10,200 for a variety of national and local charities including £1,000 for the RNLI, £1,000 The Alzheimers Society and £1,000 to 'Alive and Well'. Lions also made a street collection which, along with the charity.

Click here for a video by Geoff Moore
Click here for the picture gallery
Bracknell Forest Lions Christmas Activities
In early December Bracknell Forest Lions Club helped with the Me2 Club Christmas Party at Woodley contributing £100 towards the food and suppying the Farther Christmas and official photographer for the 100 or so youngsters with special needs who attended the party.
On the 2 mid month Saturdays Bracknell Forest Lions collected for the Lions Multi District Children of Syria Appeal and the Bracknell Foodbank. They raised £225 for UNICEF which was mactched by the British Governemnt to total £450 for UNICEF in Syria as well as £250 for immediate use in the Bracknell Foodbank.
Farnborough Lions Club Christmas activities.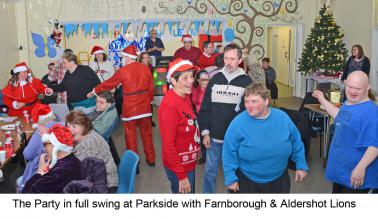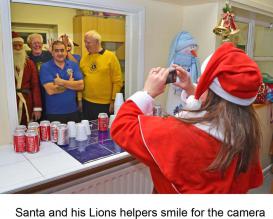 Every year Farnborough Lions helps with the Gateway Club ChristmasParty at the Parkside Centre (formerly Aldershot Mencap) in Aldershot. For the third year running Farnborough has welecomed the invaluable assistanceof Aldershot Lions Club in catering for this event when over 60 guests enjoyed the party entertainment.
During the week before Christmas Farnborough Lions were seen collecting for Lions Charities at the Asda Superstore where they made the tremendous total of £860 to be used locally to help those less fortunate and for National and International Lions projects.
For more pictures click here.
Fleet Lions Club Christmas Concert
Early in December Fleet Lions Club held a lively evening of songs and theatrical happenings for the older residents of the North Hampshire town. Altogether 300 invited guests were treated to a concert of 5 acts including the Choir from the Grey House School, the Fleet Rock Choir, The Starburst Theatre Company and the Elvetham Community Choir. The evening was rounded off with unique renditions of traditional Christmas carols by the mebers of Fleet Lions Club.
The cost of the evening was met from funds raised througout the year by Fleet Lions as part of their drive to serve the local community.

For more pictures click here
Goring, Woodcote & District Lions Christmas collections.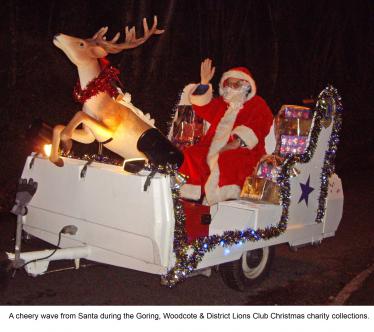 A big festive thank you came from the Goring, Woodcote and District Lions Clubs to the villages of South Oxfordsshire for their generous contributions to Lions and other local charities during the 32nd successive year of Christmas collections with their Santa Sleigh. Altogether they raised £2,748.72 which they shared with Goring Primary School PTA, Woodcote Primary PTA and the Shirehall Rugby Club, organisations who helped with the collections.
The proceeds from the Christmas collections are used towards Lions community projects throughout the year. These include: Supplies purchased and delivered to Wallingford Food visit UK, Local Farm trip organised for Chernobyl children and help with repairs to the Scout Hut roof at Crays Pond.
Click here for the picture gallery
Poole Lions Christmas Activities
Christmas 2013 has been a busy time for Poole Lions Club.
They started by supporting the Poole Christmas Parcels Fund by attending a marvellous Christmas Celebration Concert at St James Church in Poole in early December. The event was organised by Poole Rotary & Community Radio Station - Hope FM 90.1.
Collections were also made for the Poole Christmas Parcels Fund at Sainsbury's Poole store in mid December.
The Mayor of Poole attended the parcels distribution carried out by Poole Lions between 14th & 16th December.
Poole Lions were all aboard the Christmas Engine for the traditional Broadstone area house collections in the run up to Christmas raising a total of £416 from the generous householders.
Windsor Lions Christmas Funfest
Windsor Lions Club staged their first-ever Christmas Funfest aimed exclusively for disabled children of all disabilities in the local area. This enabled them to use the facilities of the Windsor Leisure Centre where as many children of all disabilites, physical, sensoral and learning difficulties could get together before Christmas playing a wide variety of games and sporting activities. They had exclusive use of the leisure pool and games such as giant Scalextric, Human Table Football, Giant Buzz Wire, soft play, curling and Boccia. Altogether 168 disabled children, their families and friends enjoyed the afternoon and Windsor Lions are looking to repeat the Christmas Funfest into the future. For more pictures click here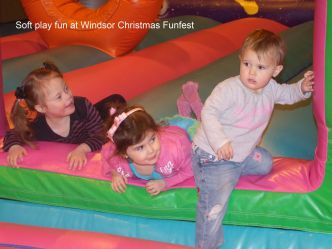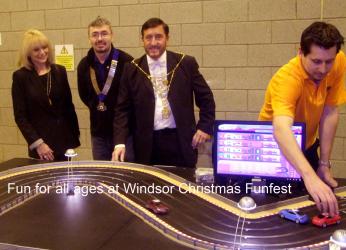 For more pictures click here
With thanks to the Lions Clubs featured above for their outstanding community work and the material supplied for this article.
Meon Valley Lions help Sophie.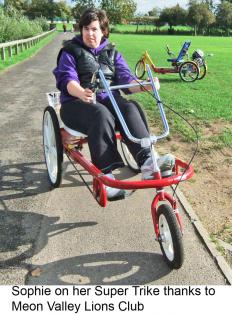 Meon Valley Lions Club was contacted by Sue Nash about her 23 year old daughter Sophie, who suffers from cerebral palsy, autism and epilepsy. Sophie derives great enjoyment from being a member of the 'Cycles for All' project based in Eastleigh's Fleming Park, which uses a range of specially adapted bikes and trikes for their members.
'Cycles for All' gave Sophie the opportunity to ride a "Trailmate Joyrider" tricycle which she loved. After a time the Project realised that the trike was only used by Sophie, as it suited her particular needs, so they offered to sell it to her at a second hand price.
Sophie raised £200 with her own fundraising events and Meon Valley Lions Club matched this enabling Sophie to make the trike her own. 'Cycles for All' are now able to purchase another bike/trike which will suit other members. Sophie is currently very much looking forward to using her trike when she goes to University.
For more pictures click here
With thanks to the Lions Clubs featured above for their outstanding community work and the material to make this article possible.
Lion Richard Keeley.
---
August 2013
Lions day out at Goodwood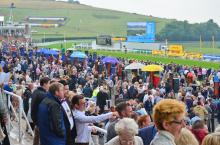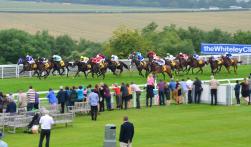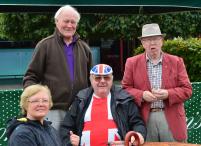 Lions from throughout the south of England joined together to visit the Saturday Goodwood Racing Fixture of the August Bank Holiday weekend.
Altogether 575 Lions with adult friends and family together with 40 children braved the rain showers to soak up the atmosphere of the 7 race meeting. It is the first time in living memory that so many Lions from 3 Lions Districts in the south have gathered together with their families and friends just to have fun as Lions.
Not only did they all enjoy the atmosphere of racing with a flutter on the horses but were able to enjoy the other facilities of the racecourse including free fairground rides and good food.
The Lions look forward to a glorious time in 2014 when it is hoped to repeat this trip to the races.
For a gallery of pictures click here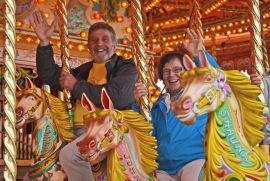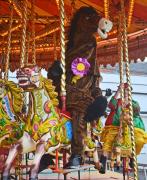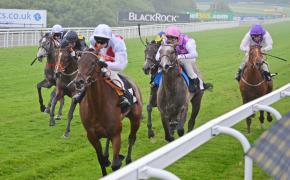 Lion Richard Keeley
---
June 2013
Lions Funfest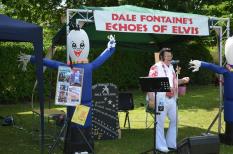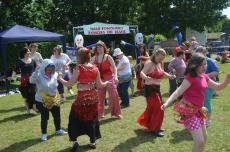 What a fantastic day Sunday 30th June was. Suddenly it was summer and the gazebos, bouncy castles and bunting were out under a bright blue sky. Yes this was the setting for the Lions Funfest.
This event has traditionally been held in Fleet but the time had come to give this event a refreshing make-over and so for the first time it was held at the Yateley School, School Lane Yateley. And what a success it was!
Let this eager Lion reporter remind you just what Funfest is. It is a festival, a funday out for people with disabilities and their families who live in or near our area. It is organised and run by the Lions Clubs of Farnborough, Fleet, Hart, Hook & Odiham, Lodden Valley and Yateley together with Aldershot and Sirius Lions Clubs who are branch clubs of Fleet.
From horse rides to train rides, smashing plates to bungee jumping, from a coconut shy to face painting, from Marching Bands to an Elvis impersonator, it was all there and all free for our 650 friends who so rarely get the opportunity to enjoy these kinds of things in the big world.
Which fairground waits for as long as it takes while a disabled child is carefully helped onto and off a roundabout? FunFest does! Which fete shows a challenged senior how to aim and fire a crossbow? FunFest does! Which festival lets the contestants move closer and closer until they DO win a prize? FunFest does? And who runs FunFest? Local Lions! And who helps pay for this terrific day out for these people and their carers? You do, with your donations to Lions! So thanks, because we couldn't do it for them, without YOU!
For a gallery of images click here.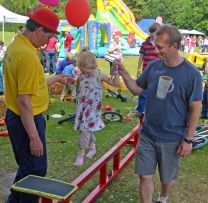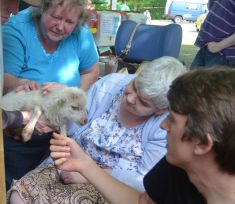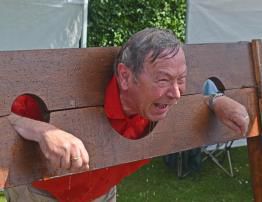 Report Lion Brian Proctor
Pictures Lion Richard Keeley
---
Hope for Tomorrow - DG Roger's wife Christine's Charity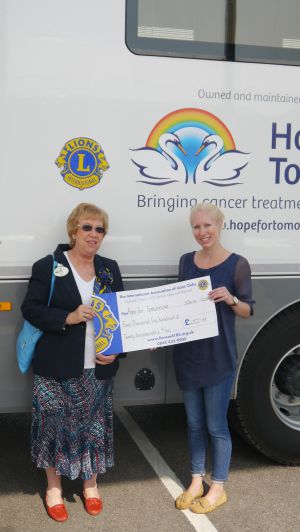 On the 25th of June I went to Eastleigh to present the cheque to my Charity 'Hope for Tomorrow'.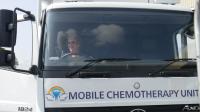 The mobile chemotherapy truck was very impressive both outside, in the driving cab and inside. I spoke to a patient who said it is like having a chemo coffee morning with friends and people in the same position as you. You share fears and hopes in a small, comfortable unit among friends. She said it took her 10 mins to drive to the place it is positioned in Andover, 2hr treatment, 10 mins home. Not a whole day as it used to be when she had to go to the hospital. This meant she could lead a more normal life, was not a burden on friends and family to take her for treatment. What a way to make life more pleasant and easier even though you are often very ill and down in spirits.
The driver, in this case a very pleasant lady is responsible for picking up the drugs for that day's treatments. Which mean between 15 and 20 people are treated each day. They hope to extend the Hampshire cover to North Hants by being in Hartley Wintney.
There are now four units, Hampshire, Wiltshire, Gloucestershire and Somerset. The fifth unit is well on its way and two more in the pipeline. Thank you to all the clubs who contributed, and if you still would like to send some funds please let me know and I can send further monies to them.
Lion Christine Munday
---
All times and dates are local
Archives
News 2013