News
December 2012
Festive Fun With The Lions at Parkside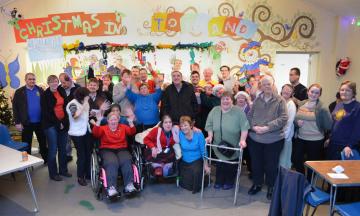 Pictured here are the smiling faces of the members of the Gateway Club at Parkside (Aldershot & District Mencap) Christmas Party with members of Farnborough and Aldershot Lions Clubs.
For over 25 years Farnborough Lions Club has helped organise the annual Gateway Club Christmas Party at Parkside. The Gateway Club is a social club for those with learning disabilities who live in the Aldershot area. It has over 100 members on the books with 65 who regularly attending on Wednesday evenings.
For the second year now Farnborough Lions have been joined by members of the newly formed Aldershot Lions Club to help organise this party.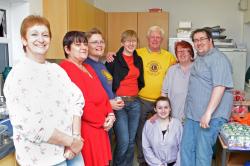 Farnborough Lions President Richard Keeley said "It is always a pleasure to help run the Gateway Christmas Party at Parkside. For many years Parkside, as a charity has given both children and adults with learning difficulties the opportunity to develop their individual life skills and take part in activities within the local community. Parkside develops and strengthens links with local people and organisations such as the local Lions clubs, creating opportunities for everyone to become involved and be included."
Richard Keeley
Farnborough Lions Club

---
November 2012
Message In A Bottle (MIAB)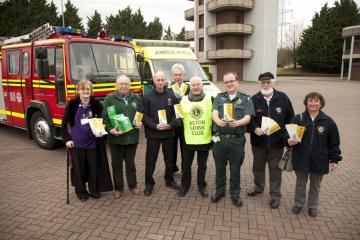 MIAB Officer Lion Ann Twining (on the right) with Lion Brian Lazenby (centre) of Alton Lions Club at Hampshire Fire and Rescue Service (HFRS) headquarters in Eastleigh to finalise a joint public relations launch with HFRS and South Central Ambulance Service (SCAS) for MIAB.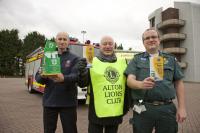 Laura Pauley, Senior Communications Executive with HFRS will be using their in-house publications to inform Fire, Ambulance and Police in Hampshire about our MIAB scheme that encourages people to keep their personal and medical details on a standard form and in a common location - the fridge. More...
In the main photograph are Lion Frances Bond, Lion Barry Woolcott, Kerry Carlton - HFRS Community Safety Officer, Lion Mick Turner, Lion Brian Lazenby, Alex Montgomorie - SCAS Paramedic, IPDG Ron Twining and Lion Ann Twining.
Lion Ron Twining - IPDG
---
November 2012
Hurricane Sandy
In line with the general policy that the Foundation made in October 2011 there is no specific disaster appeal for Hurricane Sandy relief. However clubs are most welcome to make donations to LCIF Disaster Relief. Such donations are eligible for MJF/Plaque recognition.
http://lionsclubs.org/blog/2012/10/29/hurricane-sandy/ will take you to a joint letter from President Wayne Madden and IPIP Wing-Kun Tam, Chairperson, which details how Lions Clubs International Foundation is giving financial support to Lions in the area to provide relief in the wake of Hurricane Sandy having provided a Major Catastrophe Grant of US$100,000 and several other Emergency Grants.
The Foundation is providing humanitarian assistance in the time of disasters but needs donations to allow it to continue to do so. Please contribute to the Foundation through your District Treasurer indicating that the donation is for Disaster Relief.
The Foundation is now able to help more people than ever before.
Melvin Jones Fellowship (MJF) eligibility includes donations to five areas. Donors will be able to receive MJF and PMJF credit when directing their support to:
Area of Greatest Need: Supports all program areas and allows LCIF the flexibility to supplement initiatives where additional funding is necessary or where the need is most urgent.
Disaster: Enables LCIF to direct the funds to the areas most in need following disasters to provide for immediate, mid and long-term relief. The Foundation will be able to immediately provide funds for large-scale disaster relief, rather than collecting and distributing funds over a period of weeks or months.
Sight: Funds seek to support hundreds of sight-related activities ranging from equipping eye clinics to providing Braille computers for the visually impaired.
Youth: Supports the Lions Quest program and other initiatives such as educational infrastructure improvements and programs to assist at-risk youth.
Humanitarian Needs: Funds projects that meet diverse community needs beyond sight, disaster and youth, such as the measles program, water wells and vocational training programs for the disabled.
Funding directed to "Area of Greatest Need" provides LCIF with the ability to financially support any program within the other four general areas. Donors are encouraged to consider this option when making a gift. Donations restricted to specific programs or geographic areas will be honored by LCIF, but will not be eligible for MJF or PMJF credit. For example, a donation that is restricted to a specific disaster, such as an earthquake or tornado in a particular region, will not be eligible for credit toward an MJF or PMJF.
Geoff Leeder
LCIF MDC
MD 105, British Isles and Ireland
---
District D becomes "Deaf Aware"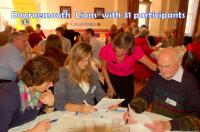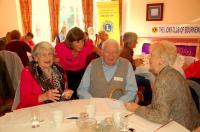 Two Deaf Awareness Training Sessions took place over the last weekend in October with a total of 61 people taking part. The first event was organised by Lion Barbara Jeremiah from Bournemouth Lions Club and was attended by a large number of voluntary and service organisations including Victim Support, Youth Football, Bournemouth Society for Visually Impaired and Bournemouth Transport Groups. This was a tremendous achievement for Barbara and will hopefully benefit a large number of people throughout the town. Barbara has already had requests to arrange another training session.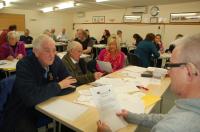 The second event was organised by Lion John Drago (MD Speech and Hearing officer) at his own Club in Westbury. Here there were several Lions with their families and some young ladies from a local Special Needs School who already used Makaton sign language on a daily basis.
Both courses were extremely well received and both had an attendee who was completely deaf. At the Westbury session we were able to have a demonstration of the differences between British Sign Language used by Nigel who is deaf, and Makaton used by the staff at the local Special Needs school.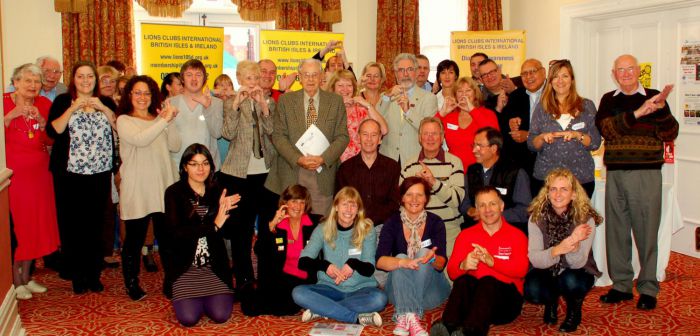 The course covers the problems associated with Hearing Loss, how to recognise the signs and ways to make communication with those affected much easier. Different types of sign language are discussed and the course has a good practical aspect with participants having a go at lip reading, finger spelling and sign language. This proved to be a real eye opener and showed how difficult these tasks can be, but with a few small considerations communication can be improved with those who have a hearing impairment.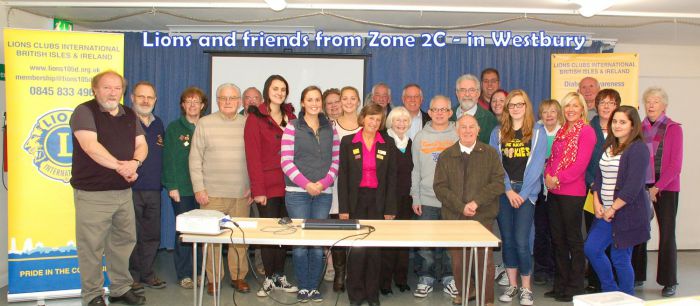 The two courses were taken by Lion Penny Tregillus from District A who works with the Lions Hearing Trust as a qualified trainer. The Hearing Trust is a charity set up by District EA and they are happy to arrange Deaf Awareness Training for any organisation at no cost in order to fulfil their aim of raising Deaf Awareness. For more details contact Lion John Cheetham at speechhearing@lions105ea.com or visit the website at www.thelionshearingtrust,org. Many thanks to Penny for her time over the weekend.
Lion John Drago - MD Speech and Hearing officer
---
October 2012
International Convention
The International Convention for 2013, is being held in Hamburg, Germany from 5th to 9th July. This is the first time an International Convention has been held in Europe, since our own in Birmingham in 1998. There is, therefore, not a better time (and lower costs) to visit Convention. More...
---
August 2012
Slough Lions
Slough Lions Club's new website is now online. www.sloughlions.org.uk
---
July 2012
Dorset Lion in Torch Relay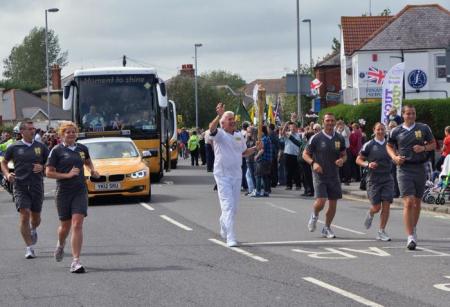 "The most amazing experience of my life" is how Lion David Taylor described his role on day 56 of the Olympic Torch Relay. The honour of taking the Olympic Flame through the Hamworthy area of Poole was in recognition of David's voluntary work in the Shaftesbury community as immediate past President of Gillingham, Mere and Shaftesbury Lions Club, his fund raising for Cancer Relief, managing the local independently run Tourism Office, as Director of the local Task Force, Director of the Swimming Pool and refereeing in the local schools and youth football leagues.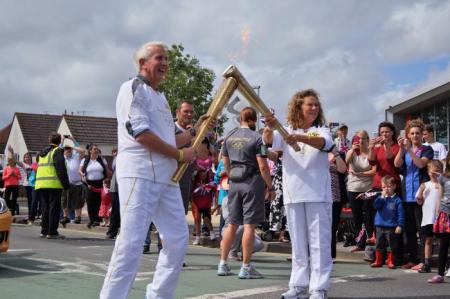 David said "For my part, the arrival at our check-in, Hamworthy Middle School, started an amazing 4 hours. It had been kept secret from the pupils and parents, so the appearance of 15 white-suited people and the Torch Relay vehicles was a surprise. We were all asked to go into the classroom and pose for photographs outside in the playground. Having been issued with our numbers, I was 89, we started looking for our 'partners'. Number 88 was a Hungarian from Budapest who had flown in specially to carry the torch and number 90 was Joy, whose late father had been nominated and she was running in his place".
After talking through and practising the handover of the Olympic Flame by 'kissing' the torches, David & Joy joined the other torch bearers to be taken by coach to their torch relay areas.
David takes up the story again:
"The atmosphere on the dropping-off coach was electric and everyone was cheered loudly off the bus by the other torchbearers. We each had to wait about 8 minutes at our individual start positions while being surrounded for photos by the spectators. The site of the oncoming runner increased the adrenalin rush that didn't stop for a long time!"
"After 'kissing' our torches and posing for the bank of photographers on the back of the convoy vehicle, I was on my way. Waving all the way, joining in the cheers of the crowds and diving into the side of the road whenever I saw people I know plus high fiving the Cubs. I was guided all the way by the police escort who were so professional; they never restricted any torchbearer but clearly let us know what we were expected to do."
"All too soon, my 300 metre run was over, my family waiting at the end to greet me. My son and grandson came from Lancashire, my brother and his wife travelled from Devon and my other son was watching live on the BBC website in Los Angeles."
"Also waiting was, of course, No.90 - Joy. As practiced, I went down on one knee to offer her the flame, much to the amusement of the police escort. Standing to carry out the official 'torch kiss' we paused for another handover photo before I was ushered onto the pick-up coach."
Lion Richard Keeley
---
June 2012
FunFest in Fleet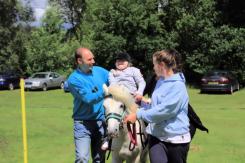 On Sunday 24th June, Calthorpe Park School and the adjacent Hart Leisure Centre played host to the annual fun day for people with disabilities, organised by the Lions Clubs of Aldershot, Farnborough, Fleet, Hart, Hook & Odiham, Loddon Valley and Yateley & District.
The free event, which caters for disabled people of all ages and their families or carers, includes a huge variety of activities and welcomed over 700 visitors from the surrounding area.
This year's big hits included an inflatable slide, a bouncy castle and a display of Belly Dancing. Elvis was also on hand to keep the music flowing and the 1st Cinque Ports Rifle Volunteers Corps of Drums added a well received medley of popular tunes.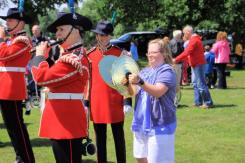 There was a craft table and all the participating Lions Clubs brought along their fun games to entertain our visitors. Also in attendance was the Cuddle-me-do Mobile Farm, where visitors were allowed to stroke goats, sheep, rabbits and various other animals.
Numerous cups of hot and cold beverages together with burgers and hotdogs from the Lions barbecue kept everyone going.
Brian Proctor, Chairman of the Funfest Committee said, "The day was an incredible success and everyone, including the Lions, partners and friends all enjoyed the day and are looking forward to Funfest 2013".
Take a look at some photos from the day...
This event was jointly organised by the following Lions Clubs:
Aldershot, Farnborough, Fleet, Hart, Hook & Odiham, Loddon Valley and Yateley & District
---
June 2012
Hope for Tomorrow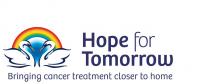 In 2007, Hope for Tomorrow launched the world's first Mobile Chemotherapy Unit in a unique partnership with the NHS. There are currently three units in operation - one in Gloucestershire, one in Somerset and a third in Wiltshire.
They have recently announced the fantastic news that their fourth Mobile Chemotherapy Unit will be allocated to Hampshire later this summer. Hampshire Hospitals NHS Foundation Trust will be able to confirm the exact locations closer to the launch date, but the unit will most likely to be based in Winchester and Basingstoke. 85% of Hampshire is rural and this is likely to increase, so this service will benefit cancer patients across the county as well as taking off some of the pressure from busy Oncology Centres.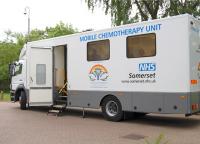 Hope for Tomorrow has received a lot of support from Lions District 105w and to date, they have raised over £24,000. Each unit costs Hope for Tomorrow £250,000 to build and maintain for three years of operation. The unit is owned by the charity and provided to the NHS to operate. A unit can give up to 3,000 chemotherapy treatments a year, saving patients thousands of miles of travel whilst reducing their fuel costs and time taken out of the day for treatment.
DG Elect Roger Munday's wife Lion Christine Munday will make this her chosen charity from July. Any club wishing to contribute to this very worthwhile cause should send funds to the District Treasurer marked 'Hope for Tomorrow'.
Further information is available from:

Rosa Woodley
Fundraising and Events
Hope for Tomorrow
www.hopefortomorrow.org.uk
---
February 2012
Heroes Return II
In 2011 financial grants called Heroes Return II were available from the Big Lottery Fund to enable veterans and/or their widows to pay a visit of remembrance to the theatre of war that they were involved in.
Veterans, male or female, widows and widowers of veterans can all apply. The offer also extends to Merchant Seamen as well as WAAFs and ATS who worked closely with active personnel.
It appears that the number of veterans claiming these grants were far less than anticipated, resulting in these grants being extended to the 31st of December 2012.
The grants range from £150 to cover travel and accommodation for veteran, spouse and carer within the UK, £1,300 to Northern Europe and £5,500 to the Far East.
The Chairman of the 49 Squadron, Ted Cachart received a grant for a visit last December, and has offered to advise on how and where to claim. Ted is also willing to help plan a visit.

Please contact Ted at:
4 Cottage Close
Heage
Belper
Derbyshire DE 56 2BS

Tel: 01773 853 181
email: ted@49squadron.co.uk
---
February 2012
The new Aldershot Lions Club is recognised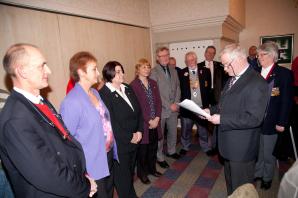 Standing proudly at their induction ceremony into Lions Clubs International are members of the newly formed Aldershot Lions Club. They are pictured with Fleet Club's President, Lion Ken Carter at the Lismoyne Hotel, Fleet. The ceremony took place in front of Lions representing the sponsoring Clubs of Hart Lions, Hook and Odiham Lions, Farnborough Lions and Fleet Lions as well as Farnham Lions with Lions dignitaries from across the region including District Governor Lion Ron Twining. The new Aldershot branch club meet every second Tuesday at The Excelsior Club in Gordon Road, Aldershot. If you would like to join Aldershot Lions or just find out more about the work of Lions contact Lion Grahame Chenery - 01252 617033.
The Club's founding members are:
Ian Hambleton - Club President
Carol Cross - Club Treasurer
Carole Hambleton
Janet Jones - Club Secretary
Alex Crawford
Also in this photograph are DG Lion Ron Twining, PID Lion Howard Lee, Fleet President Lion Ken Carter and PDG Lion Judith Goodchild.
---
January 2012
A new club branch shines in the north of the District
Sirius Club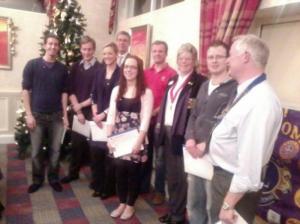 The New Year started off well for Fleet Lions as they badged-up 7 members to the Fleet Lions Sirius Club Branch (5 at the January business meeting and 2 prior to the branch meeting on Sunday 8th January 2012).
Fleet Lions President Ken Carter badged-up the first five Members of the new Sirius Club Branch:
James Forsyth sponsored by Lion James Powell (in red)
Simon Collen - Club Treasurer - sponsored by Lion Mike Collen
Rosanna Muggeridge and Caroline Skey - Club Community Officer - both sponsored by Lion James Powell
Martin Ashton - Club President - sponsored by Lion Mike Collen
Zone Chair PDG Judith Goodchild read the Lions Code of Ethics and Lions Clubs International Purposes.
The other two members not shown here are:
Annie Dashwood
Emma Donovan - Club Secretary
---
January 2012
British Isles & Ireland Trading Pin Club

The British Isles & Ireland Trading Pin Club has a new website!
The purpose of the club is to foster and encourage the trading of friendship pins between Lions, Lionesses and Leos throughout the nations of Lionism.
Membership is open to any Lion, Lioness or Leo in good standing within MD105, and an Associate is available to those outside MD105. Club members also receive a membership pin.
New Lions UK website
The new MD website is now live promising even more information and resources. Some of the links have changed, so if you are a Lions Club Webmaster, please ensure you update your website.
---
All times and dates are local
Archives
News 2012