News
October 2010
Confused Charter!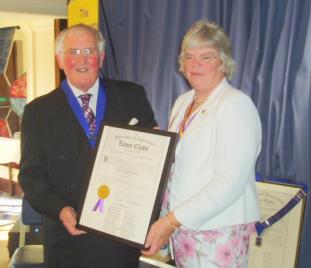 On 24 October, I was pleased to be invited to represent our International Organisation at Pangbourne, Theale and District's Charter Anniversary. However, there seemed to be considerable confusion as to whether it was the 38th Charter Anniversary of the South Chilterns Club or the First Charter Anniversary of the Pangbourne, Theale and District Club and this caused great hilarity throughout the proceedings.
Why the confusion? Well, as Lion President David Armsden explained in his speech, I, as District Governor, received a request last April, from the then South Chilterns Club to change its name because the name 'South Chilterns' was not an area recognised by the general public and it was felt that naming two places that the club served would make it more relevant. He also said that they had recently made a donation to the school at Pangbourne and hoped that the parents would now identify with the club and could be a source of help and even membership, especially as tere was now a link from th school's website to that of the Lions Club. The need for members was one reason for the change and a membership drive was planned for the coming months with the first part being in Theale in November. Lion President David presented Tony Palmer with a certificate of thanks for all the work that he had put into the changeover.
In my response, I said that I had been amazed at the speed at which the name change was actioned by Oak Brook. Within a week of sending in the request the Oak Brook website had been changed! I also said that the South Chilterns Club had had a proud history but that the Pangbourne, Theale and District Lions Club had a proud future and I wished them well with their membership drive and future events. It was my great pleasure to present the "New Charter" to Lion President David Armsdon.
Lion Judith Goodchild - IPDG
---
October 2010
40 Years of service from Lion Brian Godley
It was a great honour for me (standing in as Club President) to present Lion Brian Godley with his 40 year service pin award on Thursday 7th October at The Duchess of Kent House hospice in Reading. Our Immediate Past President Sally Bergmann had previously made discrete arrangements to allow us to make this presentation and at the same time to give his wife Doreen a magnificent bunch of flowers.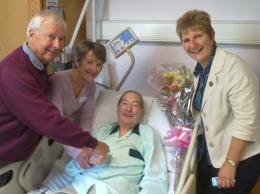 As may be seen from the attached photo Brian was in good spirits and delighted to receive this recognition for his long service as a member of Lions Clubs International, having first joined Horsham Lions and subsequently transferring to Goring, Woodcote & District Lions Club from South Chiltern Lions (now Pangbourne, Theale & District Lions) our mother Club.

Incidentally Brian and Doreen had also just recently celebrated their 53rd Wedding Anniversary.

Lion Jon Solman - PRO and acting President
Goring Woodcote and District Lions

1st November 2010
Since this article was written I have to report with great sadness that Lion Brian passed away on the 1st of November. Please see the In Memoriam page.
---
July 2010
Lions in Dragons Den style evening
The Lions Clubs of Fleet and Hart have found a new way to reach out to people in the community who need their help.
The clubs got together recently to hold a Dragons Den style evening, based on the popular TV show. The Dragons panel, made up of members from both clubs, listened to 11 presentations from different groups or individuals seeking aid for their various projects. A representative from the local Citizens Advice Bureau was also present in case any of the applicants needed referring to other organisations for help.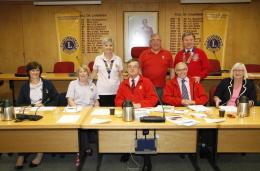 The projects ranged widely from school children who were asking for support for overseas aid visits they are making in the coming year, to various local groups such as Hart First Response, Stepping Stones DS, Homestart and Hampshire Association for the Blind. Each applicant was given 5 minutes to make their presentation followed by 4 minutes for questions from the panel.
After the meeting the Dragons met to decide which organisations or individuals their club proposed supporting. These preliminary decisions were taken to the respective club meetings for approval and resulted in Hart donating to six of the projects and Fleet to eight.
Interestingly there has been a valuable non-financial spin-off from the event. The representative from the CAB, who also attended the subsequent meeting is going to try to recruit volunteers for two of the projects from the many unemployed people that the CAB is currently in contact with. In addition to this, one project which has set up a small catering service manned by local young people to help give them a new start, has been put in touch with a project seeking funding for their Christmas Party for blind people.
The event was the brainchild of Lion Graham Drayton of Fleet Lions. Graham said "I am delighted with the way the evening went. We have heard from people that we would not otherwise have considered for our help. The presentations were very professional and we have had quite a difficult job deciding who will get our help. We hope that this will become a regular way in which we can identify new projects for both Lions Clubs".
Any club wanting details to run their own Dragons Den can contact Graham via www.fleetlions.org.uk
Lion Rita Daubeney - Hart Lions
---
April 2010
Young Dorset Musician Wows Judges In National Competition
17-year-old schoolboy Daniel Bovey, from Gillingham in Dorset, wowed the judges when he came a close second in the national final of the Lions Clubs International "Young Musician Competition" held in Birmingham.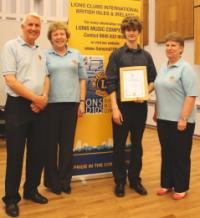 An extremely gifted classical guitarist who has impressed Julian Bream, Daniel played before three judges at the Birmingham Conservatoire in competition with other supremely talented guitarists from all parts of Great Britain. In the end he was pipped by a wonderful performance from Laura Snowden, a 20-year-old 2nd year graduate from the Royal College of Music.
The judges commented that Daniel was "someone to watch closely in the future"; they also said that "Daniel is now playing beyond the capabilities of his guitar and he needs to invest in one of far better quality". Unfortunately, that would cost around £3,000 which is beyond Daniel's means - although the £200 prize for second place is going towards the deposit.
His sponsors, the Lions Club of Gillingham, Mere & Shaftesbury, would love to hear from any benefactors that could help Daniel and have already made a donation to add to his prize money. President Deborah Clarke appealed for music lovers to rally round and help Daniel by contacting the Club on 0845 833 7521. She said "Hearing Daniel play makes you realise what a great talent he possesses and we really must do everything we can to help him develop. We congratulate him on this great success and look forward to hearing more about him in the future."
Pictured after the competition is Daniel with Lions Club members (l to r) David Taylor, Denise Stenner and President Deborah Clarke
---
All times and dates are local
Archives
News 2010